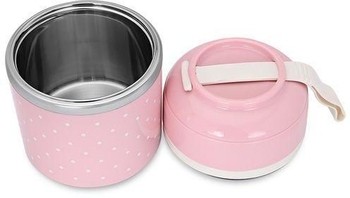 Bento boxes have become hugely popular in recent years and with good reason. These handy containers make great storage for a variety of foods and can make packing your lunch or snacks easy and fun. This leak-proof thermal lunch box offers excellent value to anyone who needs a secure food storage system.
Versatile Food Storage
If you tend to need a lunch box that can be used for a variety of items, then this one is the right choice for you. It is Leak-proof and insulated, meaning that it can be used for any number of foods. You can pack your soup in one of the containers and pack a salad in another one. With a three-compartment box, you can store several choices.
If you have long days, you'll especially want to choose this stainless steel bento box. You can stack as many containers as you need. For a short day, you may only need two compartments. However, longer days where you may need to pack lunch and several snacks or dinner, allow you to pack whatever amount of food you want. Each container holds approximately 700 m of whatever food or liquid you choose. The weight without any food is about .25 kg for each container. The size and versatility make it an excellent option for a regular lunch box container.
Hot and Cold Storage
This bento box can be used to store hot and cold foods. The insulated containers will keep your foods hot or cold for about one to two hours. If you work in an office that has refrigerator space, you'll only need to keep your food insulated until you can reach the office. The lunch bag cover provides little extra insulation, and you'll enjoy how easy it is to take too and from the office.
Microwave Friendly
If you need to heat any of the items packed, you can detach the lid and microwave it. This makes it simple for you to bring along foods to be heated and enjoy both hot and cold foods as desired. Not all food containers can withstand microwave heat, so you'll find that these storage boxes are sturdy enough to be used for this.
Fashionable Design
For anyone who enjoys Japanese design, this bento leak-proof lunch box is a great choice. It's a slim and minimalistic approach to design makes it easy to use and also enjoyable. Since it is available in both black and white, you can choose whichever option meets your style preferences. The plaid cover also adds a nice touch. The overall aesthetic is reminiscent of classic Japanese design. For anyone who wants to enjoy both fashion and function, this lunch box provides the best of both.
Conclusion
If you're in the market for a lunch box, then this bento box is going to meet your needs. It can be used for various types foods and is versatile enough for everyday use. When you're tired of not being able to pack the lunch you want, consider this option for a great lunch every day.