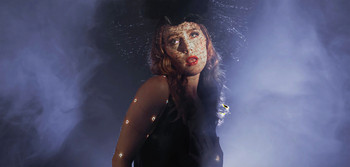 LA-based artist Alya plays with our heartstrings by taking us into the deep psychological layers of emotional manipulation with her hauntingly gorgeous visuals for "Puppet Strings."
Built on taut and dirge-like production, the track swings between ghostly pop and psychedelia where she hovers closely around a dreamy state. The rustling synths and gritty riffage cast a hypnotic, harrowing effect that feels paranormal. Drifting between glass-cutting and fraying vocals, Alya dissects the helplessness and bewitching way someone can exercise control over us. "With puppet strings, I am tied up with you" she chants.
"Puppet Strings" opens with baroque classical strings flowing into an indie-pop vibe. Brightly streaming colors flow overhead, as burbling synths hold down the middle, and a syncopated rhythm cements the foundation. The music builds, assuming multiple sonic layers shimmering with surging energy. It's cliché to say so, but it's a potently beautiful song, ethereal and brawny at the same time. Alya's voice is mesmerizing, reminding me of the best qualities of both Cyndi Lauper and Dolores O'Riordan – penetrating yet graciously melodic. It's a magnificent voice, lush with pristine timbres.