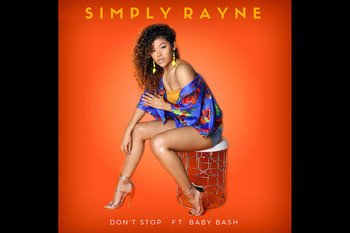 Self-described "Afro-tina" Reiana Fernandez – known to the world as Simply Rayne – didn't come out of the womb singing. This 20-year-old's journey to success has been steeped in hard work and self-possession. She was raised on classics like Stevie Wonder, Marvin Gaye, Bill Withers, Al Green, Diana Ross and Etta James, and on her own explored modern icons like Michael Jackson, Destiny's Child, Prince, Rihanna, Bruno Mars, Mary J. Blige, and Lauryn Hill. But her number one influence is none other than the queen herself: Beyoncé.
https://www.instagram.com/simplyrayneofficial
Simply Rayne hit the ground running with her career: her 2013 debut single earned her radio play in Australia, and in 2016 she began a working relationship with the production duo The KlubJumpers, who have 80 Billboard-charting songs and numerous Gold and Platinum Records to their name. She's shared the stage with such diverse artists as G-Eazy, Steve Aoki, Lil Wayne, Migos, funk icons Lakeside, and Khalid, and performed two years in a row at the Mala Luna Music Festival. She's made numerous live TV appearances and appears as herself in the upcoming independent romantic comedy film The Margarita Man. With faith-based ethos and unflinching optimism, Rayne strives to set a positive example as a multi-cultural young woman, and has earned the title of "Teen Vogue Ambassador"; had cover features in ReFocused Magazine and ChicaGirl; being a Bold Favor Award Honoree, in recognition of amazing leadership in the entertainment field, and being named a City of San Antonio Youth Ambassador.