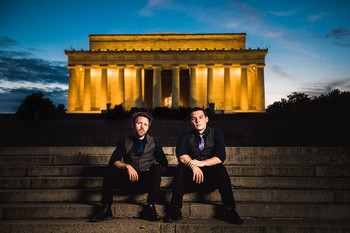 With their previous releases for "As Long As I Can See" and "Higher," DC's Broke Royals have navigated a path that intersects soaring pop rock songwriting, deft production skills, and emotion-filled lyrics. They're such an easy listen that it sometimes takes scratching that surface a little harder to understand the wonderful depths and complexity that Colin Cross and Philip Basnight are exploring with their music.
Their new single "Bad Chemicals" captures the uncertain moment we're facing as Artificial Intelligence intersects with Biotechnology, delivered on Broke Royals' signature anthemic pallet. On what is undoubtedly their most ambitious release yet, Broke Royals channel their musical heroes, U2 and Bruce Springsteen, as they tackle one of society's most pressing issues: the rise of Artificial Intelligence, with anthemic rock and gripping narrative lyrics.
Inspired and informed by the work of best-selling author Yuval Noah Harari, the lyrics describe a protagonist who struggles with PTSD and their decision whether or not to undergo surgery for new AI-powered biotechnology, which the US government is currently testing to treat the mental illness. Broke Royals open up this important discussion with soaring riffs and stirring rhythms.