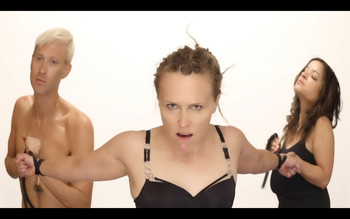 Like a bat out of hell, Adrian Conner has rocked and rolled throughout her entire existence. Refusing to hold anything back, she allows her voice to take her to places the world has only heard about through word of mouth. She bares her soul with her raw, edgy unstoppable confidence that can be felt through her acoustic guitar. With 17 years of experience under her belt as the lead guitarist of the AC/DC tribute band Hell's Belles, she is ringing in a new era for herself complete with devils and angels alike.
From Austin, Texas, Adrian Conner thrives in the city's eclectic live-music scene. Feeding her songwriting soul, she constantly breaks the cycle of conformity with her natural ability to convey frustration, rage and despair. When she's not touring with Hell's Belles, she's working on her solo act with her performing band. Completely engulfing herself into rock music, her confidence shows and she has been described as "a woman who's said everything she needs to say and slams the door in your face." After winning the Best of Austin Music Award in 2011, she has released three studio albums including, Be Your Own Savior 2014, Hush! in 2015, and SpazKitty in 2018, not to mention her arsenal of music videos including, "Rio Grande," "Deeper Feeling," "Free Love," and "Belligerent." She has opened for highly respected acts such as Concrete Blonde, Brody Dalle, the Texas Tornados, Girl in a Coma, Patrice Pike and Zepparella. But she has saved her encore for her best act yet.
Now, Conner is sharing the "Unspeakable" music video. Directed by herself and refusing to be drowned out by silence, she calls out to her audience for clarity. Alongside local drag queen Cupcake AKA Brady Faucett and Vanessa Reeves they act as the angel and devil on Adrian's shoulders but they both seem to have mal-intentions. With the absence of light to balance out the dark, they both hold the deadly apple. Taking a taste of the forbidden fruit, Adrian is torn both ways. Held back and vulnerable, she finds solace in her guitar and breaks the reoccurring cycle of destruction. As the video closes she disappears into sound and the moment.