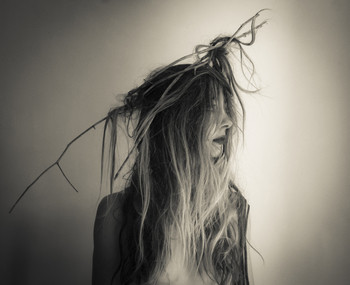 Katiejane Garside has come to shore. After disappearing for four years sailing around the world on her boat 'Iona', she returns with a brand new album 'Stone Dress', out now via One Little Indian.
Written with collaborator and producer Chris Whittingham while out at sea, the new album is full of anger, beauty and intensity, with its acoustic production marking a distinct sea change from Katiejane's past projects. "I was done with the assault of drums and guitars obliterating me. Which is a beautiful thing, on the one hand, but I enforced on Ruby Throat that it should be mainly acoustic, and there should be no drums" says KatieJane; "I wanted the voice to lead it, without being held down by someone else's rhythm."
It all began with Daisy Chainsaw in 1991, when she emerged as a furious icon of the alt-girl underworld in a torn dress and matted hair howling 'Love Your Money' – a confused and violent mixture of lust and loathing. Then came QueenAdreena; bolder, darker, louder, unpredictable and violent. Courtney Love proclaimed her as one of the three instigators of the "Riot Grrrl" scene, along with Courtney (of course) and Babes in Toyland's Kat Bjelland. Katie has since gone on to inspire and enthuse a new generation of artists including Arrow De Wilde of Starcrawler, all while keeping her mysterious and creative integrity intact, a true artist in every sense.