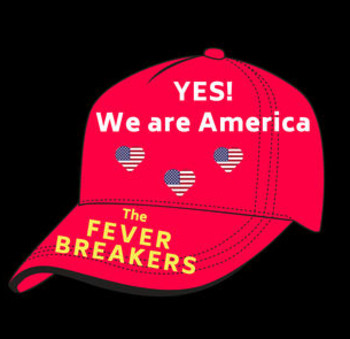 FACEBOOK: https://www.facebook.com/Darebone/
Hospitals are home to plenty of life's most pivotal moments, but rarely are they the birthplace of songcraft. For the aptly named Fever Breakers though, any other venue simply wouldn't have fostered their creative ethos. Comprised of Harvard-based orthopedic surgeon Gleeson Rebello and Berklee-grad John Ventura, The Fever Breakers take the concept of music being another form of medicine to an all new level in their single "We Are America," an anthological pop song designed to heal a divided nation through a bipartisan message conveyed in bittersweet harmonies. Fitted with elegant piano, epic guitar slinging and a textured horn arrangement that contributes a hint of exoticism to its sound, "We Are America" is far more than a stab at melody by a pair of skilled intellectuals; it's a multilayered glimpse into pop at its most straightforward, emotional and accessible.
The track opens with a marching beat that is accented with a black and white vulnerability in the mix, and listeners are soon greeted by an effervescent guitar lick that colorfully invites us closer to the bubbling tonality it's wrapped itself in. The tempo plods along at a somber pace, but the mood is anything but grim. A major key light breaks through the song's dark edge when the vocals make their first appearance, and we're treated to a delicately arranged verse that weaves an affectionate melody without interrupting the flow of the music. The lyrics sink their teeth into subject matter that has sadly become controversial in our modern times, but the statement being made here isn't shrouded in politicization or self-righteousness.
We're serenaded with the line "We are America, yes we walked across the border / We flew across the sea" as the chorus kicks into full gear, and the sincerity gripping the words translates brilliantly in the gilded sway of the track. The music is as bold and endearing as the prose is, evoking images of people traveling great distances from foreign lands to reach a place where freedom and liberty are the very foundation of its society. The horn arrangement flaunts its confidence in the face of the blustery guitar part and sly but relentless percussion, as if to reference the determination that built our nation of immigrants – which like the rhythm of this song neither recedes nor backs down when confronted by evil forces.
As The Fever Breakers' new single reaches its poignant conclusion, the stern march of the beat becomes even more prominent than it was in the first few bars of the track, but it isn't intimidating in the least. It's reminiscent of troops bravely entering a battle, not afraid of what lies ahead of them but rather of what could ultimately happen if they fail to press on. A diverse array of American voices that transcend race, age and gender start to utter the phrase "I Am America" in the ballad's emotionally moving climax, which is exquisitely produced with haunting clarity. Just as it fades into silence, the song devolves into a blistering guitar tizzy that is somewhat symbolic of the discord, pain and cries for revolution that are often provoked by such intrepid social commentaries as the one that is offered to us here. You don't have to be an American to appreciate a pop song like "We Are America," but it certainly makes this radiantly executed single all the more touching and impactful.
SPOTIFY: https://open.spotify.com/album/7BuMlarMODrypNtYWavdkl
Thomas Patton, III