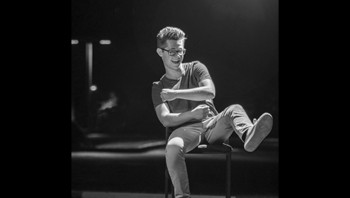 By now, if you aren't impressed with John Paciga, you haven't been paying attention. The New Jersey teenager has done so much – and so quickly! – that the exhilirating pace of his achievements feels hard to believe. Was it really only two years ago that he established himself, at sixteen, as a piano-rock prodigy with the exuberant Gotta Play EP? Is it possible that Other Side Of Town, the debut full-length album that showcased his formidable storytelling abilities, is a little more than one year old? What about his striking cover of David Foster and Carole Bayer Sager's "The Prayer"? Could it be that that version – one that made it seem Paciga was Broadway-bound – was made just last spring? It's all true. He's packed more highlights into his school years than some adult artists do in a lifetime.
For those who believe they've got Paciga pegged, well, think again. No Alibi adds new dimensions to the sound he's already developed – including a surprisingly tough, rocking guitar attack on songs like "Tantalized". Fans of his piano needn't worry; Paciga's playing is skilled enough, and flashy enough, to stand up to any arrangement choices, no matter how aggressive they are. He shows he can reach for a show-stopping crescendo on the forceful "When's The Last Time", engage in meditative, grown-up storytelling on the winsome "Flight Delayed", and stitch together song sections with the confidence of an experienced producer on "075". Paciga even raps a little on "Punching Bag", and if that isn't experimentation enough, he crowns the song with a wild analog synthesizer solo.
These are new approaches for a singer-songwriter whose feet are already squarely on the ground, and who is busily adding to a bag of tricks that's already stuffed. He's already demonstrated his firm grasp of piano-pop traditionalism; what's new on No Alibi is his fearlessness. It's rare that an artist can boast a wide range of open doors in front of them, but Paciga certainly can. He could be a theatrical rocker at the eighty-eight in the style of Billy Joel or Ben Folds; he could take his talents to Broadway; he could come up with something entirely new and unexpected. Whatever it is, it's going to be exciting to see it unfold – and No Alibi is a crucial, unmissable step on a thrilling journey.