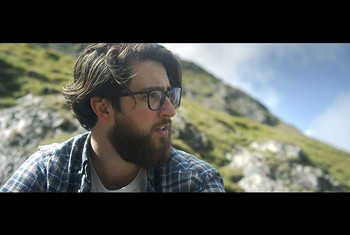 Where do you go when you need peace of mind? If you're like London based singer songwriter Josh Collins, you'll be driven to escape the hustle and bustle of city life and embark on a journey of escapism. Sometimes, a change of perspective can be just what you need.
http://instagram.com/josh_c0llins
Experimenting with music at university, Josh discovered his untapped talent in 2012. Ever since, he has been dedicated to his unique sound and vision, inviting the listener to plunge into his songs and become one with them. Influenced at a young age by the likes of Jamie T and legendary British musical icon Paul Weller, he has internalized their talents to inspire him. He has hit his stride, coming in the form of his wonderfully crafted debut EP, Porky Pies. Cockney rhyming slang for "lies", it echoes his east London roots. The EP artwork shows a colorful self-portrait, notable for the absence of his mouth hinting at words unspoken. Described by BBC6 Introducing DJ Tom Robinson as having "lovely vocals and sharp lyrics", Porky Pies is only his first chapter as he opens up to unravel his otherworldly lyrical and raw sonic abilities.
His latest music video for "Hold You Back" takes place in the Lake District, a beautiful national park located in northwest England. Directed by Tom Precey, Yannick Hausler, and Molly Tebbutt, Josh clears his head in the great outdoors as he reflects about his life. Caught in a corner of his own obsessive thoughts, he breaks the cycle and starts to fully take in his surroundings. He ends on the crest of a spectacular view and begins to realize the need to embrace the path he's on. As the video closes, he accepts that his journey is not as toxic as he paints it out to be and that there is no use in trying to hold someone back from going their own way.