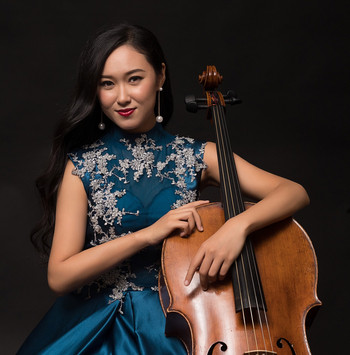 It is no surprise that cellist Meixu Lu has put her stamp on the East Coast of America with her amazing talent. The beautiful and graceful Ms. Lu has managed to not only adapt to American culture but to embrace it with much vigor. In her native China from a young age she learned to play the piano when she was 5 years old until she fell in love with the cello at the age of 7. The piano, as she explained is the primary instrument to learn prior to any other. It is typical for any musician in China to begin with the piano first or learn it at the same time with other instruments.
She enrolled at the Central Conservatory of Music in Beijing before embarking on her journey to America where she completed her Master degree at Boston University College of Fine Arts School of Music. Since then she has taken America by storm by performing at many orchestras and charities for more than 20 states in the U.S. as cello principal and soloist. Now she is the primary principal cellist and the soloist for the Asian Cultural Symphony Orchestra in New York City.
Her talent at the cello is without a doubt one of the best as she was honored with the Professional Studies Diploma from The New School Mannes School of Music in New York City after she graduated from BU, studied cello with professor Barbara Mallow. This was due to the level of her performance with the instrument. Meixu who is a humble artist owes much to her success to her hard work and to a special professor at BU, Professor Marc Johnson.
"He was a sweet man who assisted me on perfecting my talent on the cello and even advised me on how to adapt in America."
She was a fast learner as she mastered the cello and assimilated into her new home. Her command of the English language was a benefit. Meixu made it her business to learn the language back in China from the age of 5. Even then she realized to make it on the international stage you need to be fluent in English prior to coming to America.
As a student she performed with the Mannes Orchestra at Lincoln Center's Alice Tully Hall. At BU she played with the Boston University Symphony Orchestra at Boston Symphony Hall. However, this was only the tip of the iceberg for her.
She has been featured as a soloist, chamber musician and principal cellist with major symphony orchestras globally and appeared at the prestigious concert stages like the Isaac Stern Auditorium Hall, Arthur Zankel Hall and Weill Recital Hall at Carnegie Hall, David Geffen Hall and Alice Tully Hall at Lincoln Center, Boston Symphony Hall, Philadelphia's Kimmel Center, Dallas City Performance Hall in Texas, the United Stated Capitol Hill in Washington, D.C. and at the United Nations in New York City and many others.
Ms. Lu has been a guest soloist and principal cellist with the Asian Cultural Symphony Orchestra of the USA, the New York International Symphony Orchestra, the International Chamber Orchestra of America, North America Asian Performing Arts Association Orchestra, New England Repertory Orchestra and many others.
Meixu has planted a secure flag on the East Coast and plans to expand. Last year in September 2017 she had her own recital at Carnegie Hall's Weill Recital Hall. She had two parts to the concert, the first was classic music with piano and the second was with Chinese traditional instruments from pieces by famous Chinese composers, such as Tan Dun.
"I played almost every hall. Yet my most memorable one was my own recital at Carnegie Hall's Weill Recital Hall last year. The first half of the concert was devoted to the classical music of Beethoven, Chopin and Schumann. I enjoyed offering the Chinese contemporary music with the Chinese traditional instruments as the second half of the concert with my guest artists to the audience, such as Erhu and Pipa. Especially we performed the well-known piece from the famous Chinese composer Tan Dun for the Golden Globe Award-winning film Crouching Tiger, Hidden Dragon.The concert name Reflections is derived from my contemplation after a charity concert I gave. Meanwhile, all of the proceeds from this concert are donated to UNICEF (The United Nations Children's Fund). Children are the future of our world, and I hope to join hands with the audience to "create a pure blue sky for the children struggling around the world," and to pass on the charity spirit of "connecting souls with music, passing down love and hope."
Reflections embodies Mr. Lu's deepening experience of giving charity concerts and reveals her ongoing quest for meaning in life and in her musical pursuits. Through this concert, Ms. Lu hopes to invite more audience members to join her "reflection," to contemplate the definition of life and dreams when immersed in captivating music.
Over the years, Ms. Lu has given numerous performances for charity organizations, infusing her music with new influences while passing love and hope on. She has collaborated with many domestic and international organizations to give musical performances, raising funds for charities such as the One Foundation, UK Care for Children, the French School for the Blind, Beijing Sun Village, the Massachusetts Whale and Dolphin Conservation Society, the Women's Fund in Texas, various women's and children's shelters, PTSD centers, nursing homes, prisons, schools, early learning centers, and churches. In the United States, Ms. Lu has brought her charity concerts to dozens of states. She hopes to use music to help people of different races and ages.
One area Meixu is looking to work on is fusing classical with jazz or some other American type of music. She is always looking to experiment with new styles. A major goal for her is to be able to publish her first album with a special theme or occasion. In addition, she would like to keep playing at charity events where she enjoys offering hope and love to the unfortunate.
"Those charity events helps me understand that music is for sharing, it's not for allowing hundreds of thousands of people to get to know you, but instead to allow those people to get to know music."
(On October 13th she is due to perform at the Ode to Christ – Riverside Church in Manhattan which was organized by the Chinese Sacred Music Symphony Chorus. Her devotion to music is evident as she has continuously proven to be a sought-after artist for almost any concert. Come see her perform on October 13th at 7:30pm at Riverside Church for what will be a memorable evening.)
By Nick Christophers