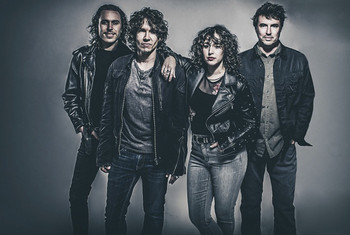 When GOODING plays rock, they do so with absolute abandon and total commitment to the moment. These four Nashville-based musicians have never tried to filter their emotions – their songs come straight from the soul. Yet they've got a different attitude altogether when they're talking to high school groups about fiscal responsibility and financial literacy in the age of e-commerce. Funding The Future, the charity they've set up, recommends a thoughtful, prudent approach to personal economics. Because they're so passionate about the music they make, they're able to speak to young people with absolute authority on subjects they might not be thinking too hard about. The Funding The Future initiative has been so successful that it was featured on CNBC, NPR's All Things Considered, and The Wall Street Journal. That's hardly the only exposure that GOODING has been getting lately. The band has placed songs on CSI, Portlandia, the trailer for Walking Dead, and many other programs.
It's also not the only cause that the members of GOODING have adopted. They've performed on military bases and at Walter Reed Hospital, and dedicated themselves to the Physician's Committee for Responsible Medicine. They write constantly, they tour constantly, and in addition to their national tours, they speak at 80 to 100 high schools a year: when they see something worth doing, they never let anything get in the way of the mission.
Building The Sun, the group's upcoming album (out September 21), was produced by Matt Wallace, who has worked with Train, Blues Traveler, and Maroon 5 on the Grammy-nominated Songs About Jane.