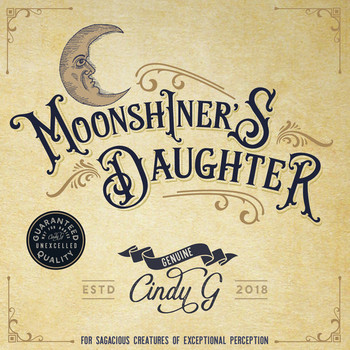 The blood of ancient Appalachia and all of the incredible music it has yielded runs through the veins of Cindy G's new album Moonshiner's Daughter like a furious river fighting to reach the ocean. I've always said that it's harder to make a stylized bluegrass record in the modern age that encompasses the wide ranging color that the genre is capable of producing, but somehow in just a dozen tracks Cindy G gives us an album that lives up to the high standards of the past and remains relevant to today's listener. Whether you're new to her sound or are a lifelong disciple, Moonshiner's Daughter is an excellent addition to Cindy's already immaculate catalogue of stunning and thought provoking music.
RL: http://www.cindygbluegrass.com/
The primary theme that I took from Moonshiner's Daughter was the value of time and the wisdom that it can bring. Whether through the contemplative songs like "This Old Man" and the title track or the introspection and self-admittance of "Pennsylvania Dirt" and "Love Train," Cindy G is constantly making us aware of how crucial the time we have on this planet is. Recorded music itself is an artifact of the period that it's recorded in, and to me Moonshiner's Daughter is representative of our collective yearning to learn from where we've come from in order to make the future all that it can be. Her songs are a collection of life lessons, each of them with a unique soul desiring to grow from these experiences for the better.
"This Old Man" is one of the most personal tracks on Moonshiner's Daughter and had a huge effect on me when I first listened to the record from start to finish. In telling the tale of an old timer in her trademark southwest Pennsylvania croon, Cindy G isn't just imparting to us the legacy of a forgotten individual, but rather summarizing the current state of modern Appalachia – a forgotten people and culture that holds a key piece of the American songbook deep within its own heart. I don't normally say this, but this song alone makes Moonshiner's Daughter a worthy listen for anyone who loves evocative music. Genres and trends aside, its tracks like this one that will ensure Cindy G's longevity as a songwriter for many years to come.
Her career has taken her many places and through many fads and style of play, but Cindy G's most recent work is probably her most accomplished and thoughtful to date. Every moment included inMoonshiner's Daughter is an original, and the presentation of its stirring content is organic, raw and tangibly relatable for even the most casual of listeners. I've always been a sucker for pastoral music that puts a strong emphasis on vocals and powerful lyrics, and for me it doesn't get much better than a record like this one. Produced with surgical precision under the hand of the legendary Jim VanCleve and carefully structured from the ground up by Cindy G and her backing band, Moonshiner's Daughter is required listening for everyone who enjoys blue color music.
CD BABY: https://store.cdbaby.com/cd/cindyg5
Thomas Patton, III