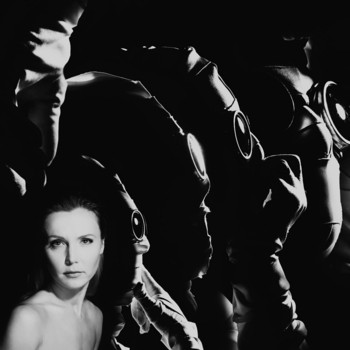 This is unique, but accessible. Alya Michelson's single "Puppet Strings" will be an enjoyable introduction to her talents and the Russian native has obviously toiled to realize her craft in a way not enough modern songwriters and musicians aspire to. The obvious care and deep feeling invested in this single will win over anyone willing to give it an opportunity There's a plethora of understated influences shaping the sound and direction of this song, but there's a clear theatrical side to the performance as well that will keep listeners glued to the song throughout its three minute twenty five second duration. It's an expertly produced without ever being overly glossy and the mix turns on Michelson's singing without ever giving short shrift to the song's instrumental performances.
YOUTUBE: https://www.youtube.com/channel/UC1jyqdedaPBoqx_NhKJ6goQ
Michelson's singing occupies the upper register throughout much of the song, but there's likewise a smoky quality to her voice nicely contrasting with her crystalline highs. She exerts her vocal muscle during the song's chorus, but there's never any overwrought quality in her presentation there. Instead, she brings the song to the higher emotional peak you want and expect with this sort of moment during a song and dovetails into the increased musical intensity. It's the one moment during the arrangement when Michelson dispenses with her earlier restraint and throws her voice headlong into the breach, but she won't lose a single listener along the way. The lyrics bear the same marks of consideration and care we hear in the arrangement and obviously mean a great deal to Michelson.
There are layers of nuance built into "Puppet Strings" without ever sounding too precious or disconnected from audience desires. Michelson, however, does exhibit a refined level of taste reflected in the bass playing, keyboards, and aural atmospherics – it never pushes too hard and, instead, there's clear forethought in the song's structure that only approaches clutter during the song's chorus. "Puppet Strings" is powered by traditional instrumentation, but Michelson recasts those sounds in a highly individual way and we never get an eye-rolling sense of having heard all of this before. Michelson, indeed, shapes this arrangement in a way reflecting her deepest artistic desires while avoiding even the faintest hint of the song sounding inert or overly plotted out.
I think this single heralds the arrival of a major new talent, but that's sort of misleading. Michelson has obviously worked mightily to fulfill her creative and musical promise, promise that could never been suppressed even by a successful foray into journalism. Hearing this song and viewing her website makes it apparent that imaginative art flows from her in a number of mediums, but I believe her musical skills will lead the way for years to come. "Puppet Strings" is entertaining, emotionally powerful, and has a dramatic posture that never dips in quality and draws its audience in from the first. Now relocated to the Los Angeles area, Alya Michelson has positioned herself in the best possible way to grow her career opportunities and exponentially expand her artistic reach.
AMPL: https://ampl.ink/7RAzd
Alya Michaelson's music has been heard all over the world due to the radio plugging services offered by Musik Radio Promotions. Learn more – https://musikandfilm.com/
Gwen Waggoner