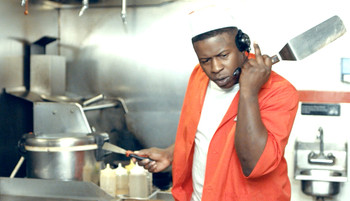 Heavy Camp's BLAC YOUNGSTA made headlines last year when his video went viral of him taking over a McDonald's; offering free meals to customers and taking over the drive-thru
Nearly a year later and Youngsta got to relive his moment for the official visual for "Drive-Thru off his new mixtape Fu*k Everybody 2. The video, directed by Vincent Lou, shows Blac taking on various roles inside a fast food joint. He plays a manager, janitor, line cook, as well as a drug-dealing cashier. The video includes some toilet humor, some gun action, and roller-skating vixens.
"Drive Thru" is out now on Vevo and YouTube. You can check it out HEREor click on the video image below.