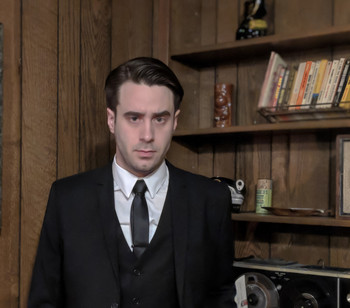 Yeah it is Friday again, happy times are here! Today we have an amazing musician M. Ross Perkins. His debut self-titled album drew comparisons to the psychedelic heavyweights of the past, but on his new EP, M Ross Perkins lasers in on a more sophisticated and precise brand of pop songwriting. The stylistic pivot is instantly noticeable on lush tracks like When You're Near Me and the mournful Don't Call Your Ride, each loaded with carefully placed details that draw you back for re-spin after re-spin. What Did You Do For Summer Break showcases Perkins' head-turning knack for crafting vibrant arrangements, authoring tuneful melodies, and performing all of his own instrumentation. Its six tracks are densely woven and tightly composed, making for a brief but surprisingly filling record that's drenched in imagination from the first note to the last. Lets get right into into it – #tgif!
@skopemag: Where are we talking from today?
@mrossperkins: Right now, you and I are sitting on a lovely veranda in the Innere Stadt here in the luxurious heart of Vienna, and we're enjoying this delightful duck à l'orange. I wouldn't say it's the best I've ever had, but it's acceptable. The weather is mild this morning, right around 66 degrees and sunny, and we should mention that you're wearing an outfit that is miles below the dress standard for this place.
@skopemag: What is it about music that you knew this was more important than all other artistic endeavors?
@mrossperkins: Well, the simple answer is the money. I tried my hand at painting, film, sculpture. And I did okay, made a couple of fantastic deals, stumbled across a few honey pots here and there. But music is what parks the Porsche, if you know what I mean. I made my first hundred grand in the industry and just got hooked. On the money, I mean. As far as the music goes, I could take it or leave it. It's a means to an end. I churn out a hit and let the lawyers do the rest. I'd be an idiot to do anything else. You saw what I pulled up in. Come on…
@skopemag: When are you most inspired to create music?
@mrossperkins: Usually between 5 and 10 minutes after the first beefy rail of the day.
@skopemag: How do you test whether your new song is a keeper or not?
@mrossperkins: The same way every successful artist does it: focus groups, focus groups, focus groups. You get a thousand white people in a conference center somewhere, you feed them a little Zoloft, and you slap some headphones on them. When you start to see kids named Brayden and McKaleigh bobbing their heads, you shut that son of a bitch down and tell Sony you've got another banger.
@skopemag: What do you think makes some artist/bands resonate with the masses when others do not?
@mrossperkins: Board meetings.
@skopemag: What other bands/artists do you respect & inspire you?
@mrossperkins: Besides myself, I obviously have a lot of love for Lil Xan, Lil Xan's Dad, Lil Yachty, Lil Richard…I've seen what these guys are bringing in every year, and I think they're inspiring all of us in the industry to step it up.
@skopemag: Should I feel guilt as an industry insider for paying $10 a month for Amazon Music Unlimited and having access to all music as I please?
@mrossperkins: Listen, one of the first things Quincy taught me when I got into this business is that no industry insider should ever feel guilty about anything. You want something? Take it. You see something? Snort it. Life's too short to sit around wondering whose baby needs a ba-ba.
@skopemag: In what kind of environment & mood do you feel most creative towards your music?
@mrossperkins: Well, the studio environment is crucial for making hits if you want to be as successful as me. I really can't emphasize that enough, which is why there's an entire chapter on this subject in my book. A lot of people talk about workflow, but I think it's just as important to talk about airflow. I've installed a state-of-the-art vape ventilation system in my beat lab so that we can pretty much vape continuously for days without having to worry about all of the vape vapor and vape residue mucking up the electronics. That's been an absolute game changer for me, and I pretty much instantly noticed that my sessions are more productive and my beats are way more fire. I also have the studio spiritually cleansed before and after each session by Devin Ricks, hands down the best psychic in Brentwood. The studio is also physically cleansed by my employee, Diane.
@skopemag: When you are not doing music what else do you enjoy?
@mrossperkins: You know, despite being this successful in the business, I'm really just a regular guy who enjoys the same things in life as you or any other low-income person. I think people like to imagine that it's all foie gras and lap dances, but it's really not. I mean, don't get me wrong, it is a lot of that, but it's important to stay rooted, you know? I fly down to Sedona to do my crystal therapy sessions just like everybody else, and I actually write my own cease & desist letters from time to time. People are always surprised when I tell them that. But let's be honest, it's easy to get caught up in the TMZ loop and forget just how truly special and important we are in this industry. So every once in a while I think it's good to stop for a second and be mindful and just try to remember everything we learned at Burning Man.
@skopemag: What is the most current project that you're working on at the moment?
@mrossperkins: Right now, I have lots of needles in the vein as we say in LA, so there's some really exciting stuff on the horizon. I just released an EP called "What Did You Do For Summer Break" which is doing very well in the charts. That's another in a long line of huge successes. I was recently awarded the Gawad sa Manlilikha ng Bayan by the government of the Philippines, which was a true honor. The regime was very hospitable. Aside from that, I'm working on my first children's book, called "Who's a Very Good M Ross?" and I'm currently wrapping up the final stages of a deal with Miramax to produce my highly anticipated Antonin Scalia biopic, starring the very talented Paul Sorvino.