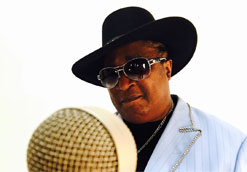 It's said by Motor City locals that the "D" in Jimmy D. Scott's name stands for Detroit. That's not merely about the singer's love for his city. It's also a measure of how much the city loves him back. In the exuberant clip for "Shakey Ground", Scott feels the love from all quarters of town: everyone from the humble janitor at the local radio station to visiting divinities pay him respect. The rest of the video demonstrates why. Though he was born in Mississippi, his music is steeped in the traditions of his adopted hometown – it's funky and soulful, with roots deep in gospel and vintage R&B. Scott draws from the same wellspring that made Motown world-famous, and whenever he sings, you can hear the engine of the Motor City purring.
True R&B aficionados will recognize the song. Detroit's own Temptations took it to the top of the Hot Soul Singles chart in the spring of 1975. Since then, it's been reinterpreted by Phoebe Snow, Etta James, Fishbone, Delbert McClinton, and many other appreciators of red hot grooves. Jimmy D. Scott's scalding version is true to the vision of the song's author: pop-rock innovator and P-Funk guitarist Eddie Hazel. While this "Shaky Ground" is spiked with horns and driven by propulsive beats and rubbery bass, it's Scott's voice – his magical inflections and electrifying phrasing – that really brings the earthquake.
He's had years of practice. Scott began his career as a recording artist in the late '60s; back then, he was just a teenager, but he was already a singer for the ages. In his long career, he's cut sides for legendary Midwestern labels like Detroit Gold, Fee Detroit, and Earwax, played with Ray Parker, Jr. (who was once his lead guitarist), collaborated with Bootsy Collins and the Memphis Horns, and opened shows for the Jackson 5 and Funkadelic. Scott continues to be in demand as a featured attraction in Detroit – and he's long since earned the undying respect of the town's musicians, deejays, producers, and fans.