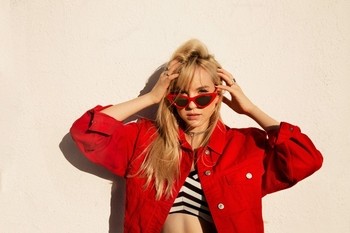 Hello people of this music loving earth. It is a blessing to have you here. Today we are being joined by XYLØ via Los Angeles, CA. It is so good to hear from this talented, charismatic, and extremely charming musician. Los Angeles' Paige Duddy aka XYLØ has built a steady trajectory as she reveals new singles from her solo venture for the first time this summer. Today, she discusses the project and has debuted the pop-perfect new single "I Don't Want To See You Anymore". We @skopemag are so happy that we are not on the receiving end of that song so lets chill with XYLØ.
@skopemag – Where are you talking from today?
My apartment in Los Angeles!
@skopemag – What is it about music that you knew this was more important than all other artistic endeavors?
Its the only thing I found I'm decent at. Plus I never feel like I'm "working" when I'm making music or doing anything music related!
@skopemag – What other bands/artists do you respect & inspire you?
Gwen Stefani, Britney Spears, Michael Jackson, Kanye West, Notorious B.I.G., Tender, Kacy Musgraves, Oasis, Post Malone, Drake, Lorde… so many!!
@skopemag – When you are not doing music what else do you enjoy?
I love being with my puppy, eating, watching a good Netflix series, hanging out with friends, having a glass of wine. All the stuff that doesn't require exercise haha
Premiere – https://medium.com/ko63-music/track-premiere-xyl%C3%B8s-i-don-t-want-to-see-you-anymore-4791a6cb3683
@skopemag – What kind of environment & mood do you feel most creative towards your music?
Whenever I've done writing trips in London I feel my best, creatively. Maybe its being in a different country, the history or the weather. But I loveeee writing music there.
@skopemag – When are you most inspired to create music?
While I'm going through something shitty haha but I need to be well rested and fed- or else my mind is in a million different places.
@skopemag – What is coming up for you?
more music each month, videos, tour dates!