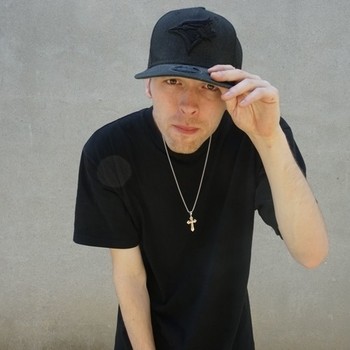 Like many of the most passionate and talent musical artists, Young Saint Nick began his musical journey early. He started during his teens and soon met his chief collaborator, Victor Ardene. It was a fortuitous meeting. Ardene, a budding music producer who finished near the top of his class, brought a talented young professional into Nick's life that could help shape his skills to better help realize his talents. The results of their first efforts became a mix tape entitled Raised in the Studio. A later track, "Moving On", stood out on an eight track album see a widespread release landing on over a hundred music platforms. This music and his new single 'HER" illustrates how Young Saint Nick has transmuted influences from Eminem and Nonstop through his own talents and experiences into a voice all his own and shows he has the staying power to be a major figure in this genre for years to come.
The beats beginning "HER" are soon accompanied by creative and colorful synthesizer work. They incorporate a number of dynamic transitions into their music before hitting a chorus where the arrangement reaches new heights. There's no question Nick and Ardene bear the necessary credentials to be taken seriously by hip hop fans thanks to their vocal delivery and lyrical acumen, but there's a genuine pop edge in the chorus that never panders. Ardene's production is top notch and maintains a sharp coordination between the different musical elements and it never sounds DIY – even for a second. It's impressive how they can construct such a song, stringing together an assortment of musical elements into a coherent thread, appealing to the widest range of music listeners, while coming on with genuine hip hop lyrical punch.
The subject matter of the song never intends to remake the wheel. Instead, this ode to the joys of beautiful women is immensely likeable and features a number of sharp lines and rhymes possessing a remarkably percussive quality. Ardene's voice links up nicely with Nick's in a supporting role, but Nick leads the way showing he's capable of snapping off lines with palpable conviction, coming across charismatically throughout, and elongating syllables sometimes with the experience level of a much older performer.
The performance runs over three minutes and never feels too long or too rushed. Instead, this is a focused single that hits listeners immediately and keeps them involved throughout. You can shape this sort of talent, but you can't teach it – both Nick and Ardene are clearly born to find prominence in the music world and "HER" exhibits why they are on their way with such an accelerated trajectory. Young Saint Nick and Victor Ardene, hailing from the wilds of Newmarket, Ontario, will soon be widely known throughout the world.  
Young Saint Nick's music has been heard all over the world due to the radio plugging services offered by Musik Radio Promotions. Learn more – HTTPS://musikandfilm.com
Michael Rand