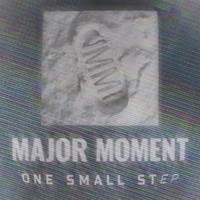 As soon as I hit Play, I knew right away I was in store for something wildly unique and out of this world and boy was I right! In the intro, I pick up on a "Twilight Zone"- like vibe that made me think where the hell am I and what dimension is this! This point makes perfect sense considering the band Major Moment is literally multi-dimensional with members coming from all different sections of the world.
"Before It's Too Late" is a new single off of Major Moment's debut album titled 'One Small Step' but honestly, I think this Boston-based group took one giant leap with this recording. There's a real catchy appeal to Major Moment and their distinct sound as I just can't get enough! From beginning to end, "Before It's Too Late" packs a BIG punch as the song hits the listener from all directions with a solid jab of fresh vocals & finely-tuned instrumentation. It comes as no surprise to me to discover that this project included 6-time Grammy Winner, Adam Ayan, and esteemed producer Kevin Billingslea as part of the production team because the end result was clean-cut and refined to a T.
The band is made up four talented artists: Andrey Borzkin on vocals & rhythm guitar, Gabriel De Mattia De Oliveira on lead guitar, Alexandra "Sasha" Razumova on vocals and Adam Soucy on drums. Together, the fierce foursome is blending all of their international flavors with alternative rock and I must say leaves a good taste in my eardrums. I heard a major Linkin Park influence on "Before It's Too Late" and come to find out that the late, Chester Bennington (RIP) of Linkin Park is one of the band's biggest inspirations. I'd like to think Chester and all of Linkin Park would be proud of this track and of Major Moment for providing such a high-quality, alternative concept that can be revered and cherished by many.
I feel it's the right time for Major Moment to step up and take the mainstream music industry by the gonads, shake it up and revive the predictable, bland scene. It's time for a band like Major Moment to add new flavor and excitement to the music world and bring endless joy to listeners everywhere. So, go now and take a listen "Before It's Too Late"! You won't regret it and the mainstream circle won't regret it either.
https://www.majormomentband.com/
By Jimmy Rae (jrae2@att.net)