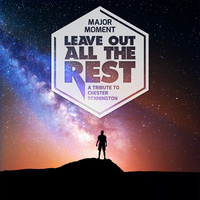 Audrey Borzykin and Alexandra "Sasha" Razumova were lifelong fans of Linkin Park, which is why they recorded a cover of that band's "Leave Out All the Rest." It's dedicated to that group's singer, Chester Bennington, who recently took his own life. These Major Moment band members aren't alone in their appreciation for Bennington and Linkin Park. However, these particular musicians take it a few steps further. They're both from Russia, and by learning and translating the words to Linkin Park songs, these players were able to better learn the English language. Therefore, this was not just another 'band poster on the wall' sort of inspiration. They literally learned musical and life lessons from Linkin Park.
"Leave Out All the Rest" was the fifth single from Linkin Park's album Minutes to Midnight. It's a song where a man seeks redemption, if you will, from poor past life choices. It's a cry for forgiveness. One line, "Pretending someone else can save me from myself," is particularly troubling. Bennington sang it, but nobody was ever actually able to save him from himself. His personal demons ended up getting the best of him.
One gets the sense Major Moment is recreating this recording to – hopefully – accomplish what Bennington was unable to do for himself. The band has done more than just recording their heroes' song, however. Bennington's widow, Talinda, started an organization called 320 Changes Direction, aimed at informing people about mental health issues and moving towards removing the shame often associated with psychological problems. The group is donating 100% of the recording's profits to 320 Changes Direction.
The song begins mournfully with a keyboard line, which then replicates these notes on guitar. The vocals are gently empathetic. These elements serve to drive home the song's message. Music can often break through barriers mere words can never penetrate. The track evolves into a full-blown anthem, which grips the listener solidly emotionally. Let's hope and pray this second go of the song saves many from the same grief surrounding Bennington's death.
https://www.majormomentband.com/
-Dan MacIntosh