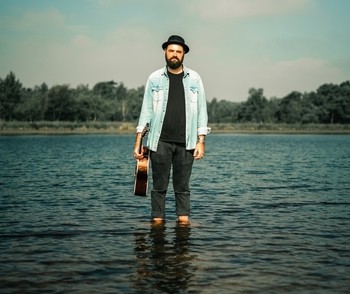 'Into The Mist' is a delicate, intimate but at the same time joyful en catchy indie folk song. Man or Lion doesn't hide his folk- and Americana influences, but he is proud of his European roots as well. And thàt is what makes 'Into The Mist' such a strong and appealing track: it's a superb, pure Americana track but at the same time a copybook three minute radio single: short intro, great chorus, strong hook and a grandiose finale. Last but not least there is Man or Lion's voice: soft, soothening but as crystal clear you ever heard. Names? Sufjan Stevens, Fleet Foxes, José Gonzalez, Eddie Vedder (from 'Into the Wild'), Mumford & Sons.
MAN OR LION is the brainchild of Mario Francken (Antwerp, Belgium). On the age of 30 he's ready to come out as a solo artist and singer-songwriter and to bring his superb indie folk to the attention of a wide public.
In his teen years Mario completed the well-known course: first guitar, high school punk and rock bands, romantic plans, trial, error but above all heaps of experience and the Love for Music.
Mario played for bands like King For A Day, De Spoel and Wolvesman, until, late 2017, producer Nick Benoy invited him to write a song for his final exam at the notorious Ghent Music Conservatory.
The result was 'Into the Mist', recorded at the Bijloke Studios in Ghent (location of the famous Ghent Jazz Festival)