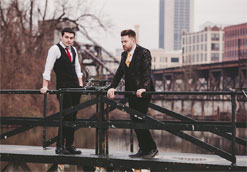 Broke Royals are not your typical alternative rock band. Hailing from Washington D.C. they are influenced by gospel, folk, and pop, and even incorporate elements of EDM. Colin Cross and Philip Basnight met while attending The College of William & Mary in Williamsburg, Virginia and started working on, what was supposed to be, just a few demos in Cross' home studio. But as soon as they got in the studio in 2014, they discovered an instant music chemistry and the project quickly grew into a band. The name "Broke Royals" perfectly reflected their lives at the time; living as broke college students at a school named after the 17th Century British royal family. They have have been releasing music since 2014 with a series of EPs, singles, and remix releases with Penguin Prison and YITES; their debut self-titled album was released just last year, and they've been making waves ever since.
The music video for Broke Royals' latest single "Higher" gives a strong, straightforward message to accompany this rock ballad drenched in the theme of longing. Director Scott Hansen had a clear vision for what "Higher" was going to entail, with a very literally take on the song title. The video takes place at the highest mountain in Georgia, opening with beautiful scenic shots of the base, the same location where many scenes from Marvel's Black Panther and Avengers: Infinity War were filmed, and moves through the video up to the summit- the highest point in Georgia.
At the start, the band members are seen walking with a leading line shot as they take off their casual woodland attire to reveal their classic vest and tie outfits underneath, transforming the song into a ballad as they cross a bridge with their eyes shining into the camera. Due to the emotional content that this song contains, they wanted to make a video that was visually stunning but they also are no strangers to concept videos. Gaining inspiration from Bruce Springsteen's 80s material, the references can be clearly heard as they also incorporate elements of contemporary indie and alternative rock such as The Killers and Bleachers. With a variety of different influences, genres and visuals they are openly creative genre-bending artists.