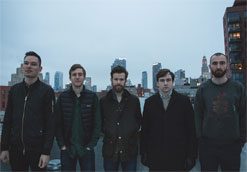 Earthquake Lights has centered their discography around natural phenomena. Currently based in Brooklyn, New York, the band is composed of Myles Rodenhouse, Cameron Underhill, Evan Douaihy, James DiGirolamo, and Stephen Helms. The name Earthquake Lights references unusual events that occur after a huge natural disaster, when nebulous lights of the same name begin to appear in the sky. Taking inspiration for their upcoming debut album from the depth of the ocean, they seem lost at sea, trying to navigate the way back home with only the hope of being found by issuing distress signals. Yet their innate awareness of their own strengths sends them overboard adeptly ready for their next plunge.
https://www.facebook.com/earthquakelightsband/
Hailing from Rochester New York and the Tri-state area, the members of Earthquake Lights have long been huge fans of music. Lead singer Myles Rodenhouse has been playing classical piano since the age of eight, and met the rest of the band studying jazz at music school. Having met and formed in college, their expertise and training show in their melodies, lyrical content, and overall creative vision. They have taken inspiration from many of the leaders of indie rock such as Radiohead, Beck, and The Who, and incorporate elements of such classic production into their own work. In the spirit of classic rock and roll, the strings on their upcoming album Distress Signals were recorded at the world-famous Abbey Road Studios in London- Beatle-esque orchestra leads the group through raging waters on the new release. They are ready to start a wave with Distress Signals, set to be released early next year. With themes and textures inspired by the ocean, this poetic tribute to the sea takes more of a general mood from its influence than a literal central theme – which is certainly interstellar.