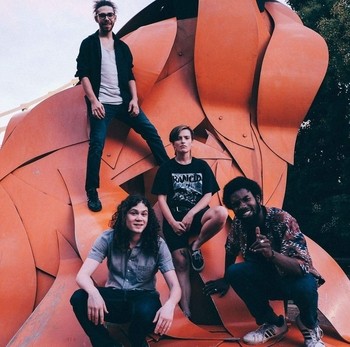 Good morning to all as it is an easy Sunday morning here on the east coast. We are waking up to some coffee and music from Jack Swing. Jack Swing recently released, "Take the Night." The first of multiple singles off of the upcoming LP. Jack Swing would like to urge readers to keep eyes peeled for a second single in the coming months. In preparation for and in support of the upcoming LP, Jack Swing has plans to tour the US extensively and is sure to be coming to a city near you in the blink of an eye. Join us today as we get to know Jack Swing.
@skopemag: where are we talking from today?
-Pittsburgh PA, all of us were born and raised here. Definitely a huge part of our music and creative direction. Safe to say we "bleed black and gold."
@skopemag: Got any music posted that we can stream and check out?
-Definitely. You can find us on all major streaming platforms (Spotify, Apple Music, Ect) but we also have a good amount of stuff up for free download on our bandcamp. Jackswing.bandcamp.com. Also released a new single, "Take the Night" recently. The video can be found on YouTube.
@skopemag: Should I feel guilt as an industry insider for paying $10 a month for Amazon Music Unlimited and having access to all music as I please?
-Not at all. Capitalism is dying and music should be free. It's hard to be a band in 2018. Gotta shake the hand of everyone you want to listen to your music, for better or for worse. I'm of the belief that if bands focus energy on creating the best possible experience for their audience, both in person and digitally, then the proper revenue is bound to follow. (Fingers crossed haha). But people should not feel guilty for LISTENING to music. We're just glad you're checking it out.
@skopemag: What kind of environment & mood do you feel most creative towards your music?
-That's a tough one. I'd say it just comes and goes. A lot of the time I'll struggle to write something for weeks and then one day I'll get taken off some new direction and write a completely different song in 30 minutes. I think for us a lot of it comes from practicing and studying our instruments enough that whenever we do get hit with these waves of inspiration, we have no problem translating what's in our minds and hearts into something that the band can receive. That's not to say certain things such as; a change in environment or a strong new emotion aren't recipes for success. I'm just talking on a more day to day basis.
@skopemag: What is coming up for you & where you @ online?
-We're currently very very busy. Coming up we have a lot of shows in Pittsburgh and surrounding areas, all of which can be found on our Facebook page. The biggest of which being Pittsburgh's annual Deautschtown Music Festival July 13th. During all this we are currently finishing up our debut, full length record. Set to release early fall and being recorded and mixed by Rowdy Kanarek of Pittsburgh's Post Office Studios.