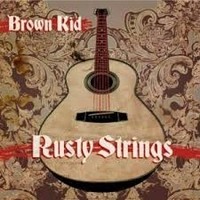 Brown Kid goes for an intimate, rustic approach with the carefully crafted narratives of "Rusty Strings". Careful arrangements add to the overall spirit of the piece. While clearly grounded in a laid-back folk approach, Brown Kid brings a whole slew of different styles into the mix from hip-hop to reggae to a summery sort of pop. The incorporation of such a wide slew of genres gives the songs a tremendous sense of life and unpredictability. Soothing to their very core, what truly brings the whole collection together is Brown Kid's playful lyricism. Over the course of the journey a shaggy dog kind of humor reveals itself, from the tongue-in-cheek "Welcome To My Funeral" to the nimble "Jamaicamecrazy".
On "Welcome To My Funeral" Brown Kid sets the tone. Infinitely creative Brown Kid avoids morbidity for something much biting. Reminiscent of Sublime's casual cool approach, "Welcome To My Funeral" proves to be an early highlight. The impeccable flow of "La Farra" shows off Brown Kid's impeccable delivery. "Hole In The Wall" slows things down considerably for something contemplative. Lilting guitar work adorns the joyful "Jamaicamecrazy". Ramshackle rhythms and a bohemian flavor make the title track "Rusty Strings" the peak of the collection. Complete with subtle scratching, the whole of the thing recalls early Beck albums with its loose vibe. "Complacency" goes for a meditative finale.
"Rusty Strings" reveals Brown Kid to be a deft storyteller, one who embraces a great deal of different worlds and unifying them into a singular whole.
https://www.facebook.com/brownkidmusic
By Vince Spaulding