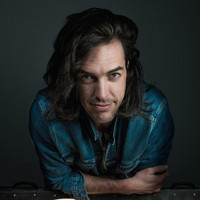 Have you ever been to St. Louis, Missouri? Known ironically as the "Show Me" State, there are tons of things to do like Sweety Pies Restaurant, Six Flags, but move along to Nashville, Tennessee right to Music City and you would understand the importance of these two places as they have a lot to do with the sonically, booming new sound coming from Steven J. Push with his latest single, "The Road…"
Originally from St. Louis, Push is an entertaining guitarist, singer, songwriter, and an amazing teacher that has a whole lot to say! And those words are truly mesmerizing with his latest single 'The Road.' If there were a comparison of the type of sound coming from Push, it would be Lynard Skynard meets Train which meets John Meyer which meets Toto! Heavy guitar, 80's sounding synths, and a hardcore drum set make any day, a Great DAY! The recording production on the single, 'The Road,' is extremely high quality! GREAT STUFF! Vocally, Steven has a British accent when he sings which is very intriguing while becoming! However, it is the 80's Classic Rock sound that stirs all types of emotions on this song! Listening to this song, it has the makings of an adventure and causes the listener to want to grab a bag, pack it full, jump in the car, and just drive for a long time!
At first listen, "Too much sitting on the side of the road…Give me the keys, I've got one way to go…" Powerful opener…-Direct lyrics from Push that give a glimpse into his eyes; It truly sounds like there is a person that is tired of sitting and watching methodically how everyone else around him/her are moving along in daily life, careers, and just ahead…This person wants to get the prize that is right in front of him/her! Time is running out in this song and they just want to get to the winning prize, which is assumed to be happiness…Life in today's world is so fast paced so when there are moments that peace could be obtained, sometimes it is not done without a struggle or a fight, yet, THIS SONG, captures the greatest message that might have been hidden at first listen which simply is: Live today and if you aren't, START! Songs about encouraging people to step outside of the box really are what is needed in today's world.
Proudly living in Nashville, Tennessee, now, Push has got the right place around him to continue writing challenging music with a message! Inspiration is something that we all could use a little bit of and I truly enjoyed his first opener! I am also excited about what my ears got a chance to hear! Nashville has so much to offer so it would be very rewarding to catch a live show and hear what music is being offered by Push just because anyone that can sing and play a mesmerizing guitar, can win over any crowd! I highly recommend Steven J. Push and think that 'The Road' is just the right song to start the summer off right!
10/10 Rating
K. Tibbs