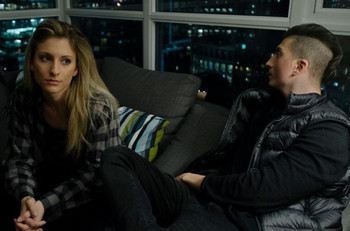 Los Angeles has always been a place that artists gravitate toward in hopes of making their dreams a reality. With its rich music history, the City of Angels is definitely an environment for those who are ready to put in an enormous amount of work. While most of LA's inhabitants move there from far and wide, the dynamic duo Man Made Time have been Southern California kids from the start.
Consisting of Albert Babanian & Hillary Grace, Man Made Time has a sound that is familiar to the culture and ambiance of Los Angeles, while adding their own twist on it. "Fool," their latest single is a perfect representation of what you can expect from this musically adventurous duo. It's marvelously danceable and wonderfully sung, and it offers a timely message of hope and comfort in difficult times. The synthesizers are dazzling, the beats are propulsive, and the chorus is captivating and anthemic Grace's "force of nature" voice leads the charge, while underneath her is a pulsing beat and numerous instrumental layers conjured up by Babanian.
https://www.facebook.com/Manmadetime/
Together these Los Angelenos create an infectious vibe that will be impossible for listeners to ignore. Directed by Margos Margossian, the clip for "Fool" fully encompasses the overall sonic aesthetic that the California duo so aptly espouses. The shadowy atmosphere assists in conveying the overall mood of their latest track as well as the rest of their discography. "Fool" is a track that is about exactly what it sounds like: being a fool to someone or something. This song is one-size-fits-all for its listeners, as well as the artists. "Fool" is not about one particular story; it's something that Grace and Babanian have both felt at different points of their lives, whether it was in a romantic relationship, the music industry, or the idiosyncrasies of their life journey.
With an EP and a few singles under their belt, Man Made Time is something that listeners will be able to connect with in more ways than one. Instead of focusing on getting to the top as fast as possible, their goal is to write honest songs and be true to themselves as people and artists, which is something that is rare to come by nowadays. Man Made Time is more than just a name; it's about living in the moment and finding peace within yourself.