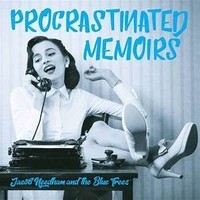 Slick…that's the one word I could use to describe Jacob Needham and The Blue Trees's Procrastinated Memoirs album, released in April of this year. Actually, make that two words: slick and clever…this album is slick and clever. At least, that's what Jacob Needham and The Blue Trees made it out to be, especially with their metaphorical lyrics and their various musical tones. Though each song tells a story, some more provocative than others, this is definitely not a kiddy-worthy album for story-time. It shouldn't be, as this is an adult contemporary-worthy album…perfect for adult story-time. The themes being talked (or sung) about is the exact reason why. These themes involve mental health, one-night stand situations, and love, both forbidden and genuine. With track names like Avalanche, Just Dropped In, Rhythm and Brews, and Alabama Baby, you wouldn't think that'd be the case. A bit of advice? Think again.
Apart from the lyrics, the album's best aspect is its appreciation for music. I'm talking about music genres. Specifically, this rock album experiments with the funk and rap genres, as well as other rock aspects. Some people call it genre-based collaboration. But, as a music fanatic, I call it musical versatility, which is something that every musical artist, no matter the genre, needs to know about. The thing is music isn't just about the story, lyrics, or even inspiration; it's, in part, about versatility. It's one thing to be a talented and musically-inclined artist, but it's another thing to be a versatile artist. Jacob Needham and The Blue Trees understood that and made sure to cleverly incorporate other genres. What's even better is that the other genres weren't so loud that they overpowered their album's main genre: rock.
The themes are the album's second-best aspect…and a whole different story. Judging from the name Procrastinated Memoirs, it's pretty safe to say that the stories of these tracks were derived from personal experiences. On the other hand, it's also safe to say that they're not. Who really knows? Maybe these stories are derived from everyday life situations. Take Vanilla Salt Black Voodoo and Traffic, two very different songs, for example. Traffic is the epitome of escaping life's troubles…a life aspect that's nobody's best friend. On the other hand, Vanilla Salt Black Voodoo explains exactly what can happen when you get caught up in some bad romance…hence the Lady Gaga pun (yes, it is a pun). Every day, whether it's in America or another country, someone is going through some type of struggle. 9 times out of 10, they're looking for a way out. The same goes for hopeless romantics thinking they've finally found love…or lack thereof…only to realize that it was just a counterfeit. Next thing they know, they end up looking lost and thinking, "…what just happened?"
Procrastinated Memoirs might not be a bedtime…or daytime story for children, but it's definitely one for adults. Trust me, Jacob Needham and The Blue Trees made sure of that.
Jacob Needham & The Blue Trees new album "Procrastinated Memoirs" is available now at iTunes, Amazon, Google Music, Spotify and more! Check out the music video for their latest single "Alabama Baby" on You Tube.
https://itunes.apple.com/us/album/procrastinated-memoirs/1358173693
Visit their website at: https://www.bluetreenation.com
Follow Jacob Needham & The Blue Trees on Twitter @JNandTBT
For interviews and radio airplay, please visit https://www.spectramusicgroup.com
By – MieKayla Lezjuande