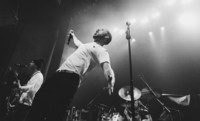 Music history is filled with colorful stories about famous brothers creating memorable music together (the Gallaghers in Oasis, Everly Brothers, to name a few), but the two siblings that comprise The Norm (Bryan Rucker and Ryan Bars) are also brothers – only they're step-brothers. You might say, then, the brotherly duo The Norm is not the norm.
Although raised in South Florida, this duo now calls Athens, GA home, where The Norm is following in the footsteps of other famous acts from that town, namely R.E.M. and The B-52s. In fact, The Norm took home the 2017 Flagpole Music Awards Artist of the Year. Building on that success, the act most recently won The Road to Roo competition, enabling these two to perform at 'Coachella of the South,' The Bonnaroo Music Festival.
The Norm just dropped the single "Delirious" and it's already gaining traction on Spotify. The vocal ability of these two is really incredible. The song's intro is followed by a rapped section that more forcefully details the track's lyrical insomnia theme, which then gives way to a banging chorus.
These dynamics reveal a keen appreciation for elements that make songs memorable. The Norm could have easily limited the track to just one of these aural approaches. Instead, the pair wisely chose to combine these multiple sonic tactics, which transforms these three minutes and thirty seconds into a standout track.
The Norm could have tossed and turned and wasted the night away awaiting sleep. Instead, though, these guys transformed their pain into gain by creating a relatable and memorable musical moment. Insomnia has a way of making us delirious and unable to focus properly. Thankfully, The Norm's Bryan Rucker and Ryan Bars were able to gather their thoughts enough to compose this smart recollection of their experience. In fact, this song may be the best asexual song about bedroom activities since The Cure's "Let's Go to Bed."
Dan MacIntosh