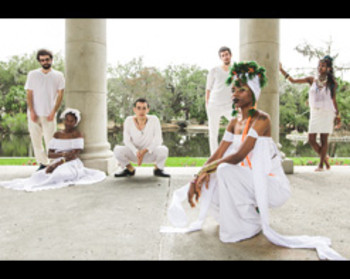 Who among us hasn't wished he or she could gaze at the stars during daytime? To get lost in the rhythms of nature, and slip into a waking reverie?  To find something that might help you transcend the limitations of the hectic world around you?  Well, Lady Moon & The Eclipse have what you're looking for. Theirs is spiritual music in the truest sense: they make pop, R&B, and Afrobeat that feels like a window into a more tranquil, ethereal dimension. The group has become one of the most reliable suppliers of musical illumination in Brooklyn – stars of the club circuit, dazzling live performers, and record-makers of grace, elegance, and positivity. Journey to the Cosmic Soul, their latest set, is an aural daydream in the best sense. Everything about it is suffused in beauty.
https://www.ladymoonandtheeclipse.com/
"Star Gazing", the single from their forthcoming album, Journey to the Cosmic Soul, is a glittering example of everything that Lady Moon & The Eclipse does so well. The rhythms are gently propulsive, the electric piano is playfully funky, the synthesizers tug and whir, and support singers Nkoula Badila and Ntangou Badila bathe the track in gorgeous harmonies. The lyrics are heady, witty, inspirational. But the true star of the show is Lady Moon herself, who, without ever being too showy about it, sings with uncommon precision and confidence. She's got wisdom to share, and she delivers it with a beaming smile. The band and backing vocalists act as the Sun, bestowing light upon Lady Moon, while the audience is the Earth; when the three are in alignment, the Eclipse occurs.