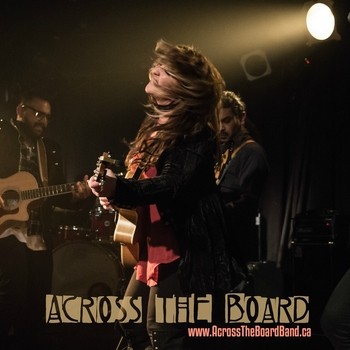 We are so excited to be here on May 31 as we get to hang out with Across The Board. We caught them at a perfect time as they have their third album, 'Sonic Boom' out now. I love how open & gracious they were with our Q&A so lets get right into it with Across The Board!
@skopemag: Where are we talking from today?
(Jackie Auguste) – We are talking from Toronto, Canada—the home town of Across The Board.
@skopemag: What is the most current project that you are working on at the moment?
Our most current project is our third album—SONIC BOOM – written as a rock opera detailing the story of "breaking" a band.
The title track "SONIC BOOM" was in fact the first song I wrote for the album-it describes the indie musician's dream of a successful music career and sets the stage for the journey– "No one's gonna stand in my way, take the sun from my day, try to rain on my parade—can you hear my sonic boom?!". As a kind of innocent determination, the single sets the stage for rest of the rock opera which takes reader along for the musical ride, Act by Act.
I pictured the listener's journey through the album like a piece of musical theatre—with a story, a heroine, and the trials and tribulations of a musical climax and anticlimax. The story is set in the small farming community outside of Edmonton, Alberta (Canada) where I grew up. As a young musician, I dreamed of taking my music to the 'big city' and the album echoes her journey by rail to Toronto where she eventually meets the characters who will either try to steal the dream, or help us succeed.
I see the title track as that moment in a young person's life when they throw caution to the wind, and set out on their pie in the sky musical journey—no holds barred, full speed ahead, with all the dedication, determination and drive of a wide-eyed kid. The song pulls on influences from bands like U2 and the Cranberries, Broken Social Scene and Oasis. The remaining tracks on the album follow a story line that takes our heroine across country on a train to Toronto where she meets her love interest- to empty bars with scamming bookers and then finally to the realization that what's important is writing music from one's heart and not losing sight of your true self.
@skopemag: Got any music posted that we can stream and check out?
Absolutely –
Check us out on Reverbnation: http://www.reverbnation.com/acrosstheboardmusic
Visit us at iTunes: https://itunes.apple.com/ca/artist/across-the-board/id719845554
@skopemag: When you began your journey in music were your family/friends supportive?
Most of my friends and family are also musicians, and we often share projects—they have been very supportive and collaborative. Some of our early Youtube videos – we have over 450 now! – included friends and family members.
@skopemag: What is it about music that you knew this was more important than all other artistic endeavours?
Music is soothing, creative, and is healing—it's a form of art that often brings people together—from all backgrounds, and across cultures. There are so many combinations and permutations to the structure of music, but it's not simply math—the creative component is pure art—and uses both melody and lyrics along with cadence and different instrumentations to make each piece of music unique, and to trigger emotions or memories in the listener and performer.
@skopemag: What do you think makes some artist/bands resonate with the masses when others do not?
Music is very subjective—some fans loves scream rock and death metal—others like adult contemporary and maritime fiddle music—there will always be a fanbase for any good music of any genre from Celtic harp to Baroque! I think what really resonates with masses is more than simply the genre or the hook of a song—but the band, the identifying factors in the performers, the lyrics—all of these come together to create a special moment of time—be it 3.5 to 4 minutes of escape for the listener. Catchy resonates, relevant resonates, and performers who connect with they fans will also appeal more to the masses than performers who don't engage.
@skopemag: When you are not doing music what else do you enjoy?
We are very active—we love sports—skiing, boating, fishing, windsurfing, and we have a cottage about an hour north of Toronto that we enjoy hanging out at in the spring through fall. We go up there with musical friends, family and even do writing workshops there. We are big foodies as well—we enjoy cooking and checking out new restaurants in town.
@skopemag: How much time per week do you devote to music & social media marketing?
We devote hours and hours to music and social media—probably more than 8 hours a day. We use a program called Later.com to help schedule Instagram, facebook and twitter posts, and we spend as much time as we can engaging with followers and comments. We create a daily vlog, most days, for Youtube and Facebook and have one major webseries per day—Caravan Karaoke on Mondays, Acoustic Jams on Tuesdays, Playlist Wednesday, Pic Up & Play cover series on Thursday, and Kitchen Sessions on Saturday with an "At Rehearsal" clip Fridays and a Facebook LIVE event on Sundays,
@skopemag: Should I feel guilty as an industry insider for paying $10 a month for Amazon Music Unlimited and having access to all music as I please?
Of course not. We give out all our music freely—sure you can download it and buy our CDs from Bandcamp and Amazon if you like—we are hoping that people will not be restricted from hearing our music because of money—and if they like us, someday they will buy a ticket to come see us perform!
@skopemag: What kind of environment & mood do you feel most creative towards your music?
I love to sit alone on the floor or park somewhere remotely in my car to write music. I don't like a lot of distraction. But I don't like dead quiet either—sometimes I will play a show on Netflix for inspiration!
@skopemag: What is coming up for you & where you @ online?
Coming up for us: we have a tour—we are going to be doing an acoustic tour across Ontario and hopefully into Quebec this summer followed by a full band tour in the fall in conjunction with a fellow artist, Jessica Speziale who also recently released an album. Here are all of our social media links, and our weekly program schedule in more detail:
Thank you for the interview!
Jackie / Lead Singer
Across The Board
Sign up for email alerts and our Across The Board newsletter—new videos, songs, local shows, tours~ click the link to join our list: