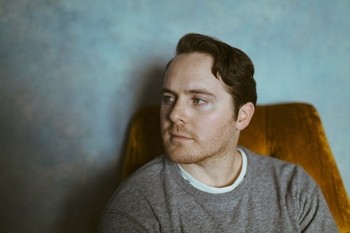 With the chiming of what may as well be church organs grinding through the lens of a shimmering synthesizer, Wesley Jensen & The Penny Arcade come strutting out of the darkness and bring all of the shadows with them on "All" the opening track of their new extended play, Something New, out at the end of this month everywhere that independent music is sold. "I want it all" Jensen proclaims in an explosion of fuzz drenched guitars on "All," and it's hard not to believe him as the indulging, delicate rhythms swirl around us and create a dreamlike state that leaves a lasting impression long after a first listen. There's an enigmatic draw in the waves of relentless atonal soundscapes driven by the crashing of the band, and it carries us right into the next track, "Everything," which shows us a more playful, freewheeling side of Jensen's prolific songwriting. You know you've found something really special when a little EP packs as much diversity as Something New does, and this record does everything we want in a band that ignited so much buzz at last year's South by South West (SXSW) arts festival. "Everything" is sewn together like a carefully constructed blanket of elegant linen, each strand of notes carefully connected to the next in an almost ethereal fashion, like they were crafted this way by the hand of god.
There's a cathartic, freewheeling spirit that drives the heartbeat like tempo of "Everything," and its electronic accents recall some of the brighter moments of 90s trip hop and get us prepped for the atmospheric exercise in sonic patchwork that is "Far," the most surreal track on the EP. I think that just based on this sweet slice of creativity from Jensen and company we can deduce that not only do these guys care about yielding a really cerebral, calculated release regardless of format or length, but that they fully reject using filler to polish up their overall product. Nothing here feels forced or motivated by forces outside of the band. There's such a willful, almost joyous attraction to the avant-garde that they exhibit on this record that is as refreshing as it is intriguing and relevant.
http://www.wesleyjensenmusic.com/
"Color" marches into full, high definition glory to close up Something New in an almost militaristic fashion, pushing us into the next era of creative indie pop music that celebrates rock guitar in the style of noise pioneers like Sonic Youth while finding a way to challenge our collective concept of what contemporary rock music can and should sound like in the future. When the song comes to a poignant, foggy close, we're left with only the hooks and catchy choruses that Something New has undoubtedly left cycling over and over in our minds. I hope I have the chance to catch Wesley Jensen when he comes through my hometown on his upcoming tour; after all, there really is no better time to see and experience what a future chart topper has to offer than during the raw, visceral salad days of their ascending career.
https://www.youtube.com/user/WesleyJensen
Thomas Patton, III