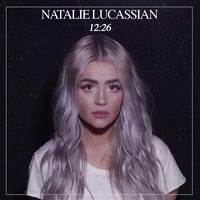 Summertime…Summer heat…Summer fun…Summer love…It's that time of year again where the most enjoyable moments are just a phone call away; a moment in the year where the kids get out of school, parents get that opportunity to plan the summer travel, the barbeques begin, and then festival season hits! All along the way, the summer musical playlist's begin and guess what? Something evolves that sinks inside just like a rock sinking to the bottom of a river after being thrown in…Here it is, a wrecking ball that screams instant vintage, yet the most amazing question of the day is who will bring the summer music in right? That answer consists of the talented, beautiful, and amazing Natalie Lucassian with the summer monster, "Restless." The catchy single is coming from the forthcoming album, "12:26." A special time, a date, or a moment to remember, one may never know from the first look, but the catchy album title has a lot more to showcase in the single coming from Natalie Lucassian!
Natalie Lucassian, a native of Detroit, Michigan where Motown, Cars, and Music just seems to make sense, is also known as a guitarist, singer, and songwriter. She has a very unusual sounding soulful, vintage, rock with influences in the alternative world with the latest single, 'Restless.' With tons of heavy drums, impressively, there are striking jazz elements with the upright bass, acoustic soul, and that lovely vintage rhythm guitar that sounds like a moving rollercoaster in the wind…The perfect blend of that drifting harmony reminds the listener of a very soulful song from Sade. Although Natalie strikingly could be a perfect blend of Adele meets Carrie Underwood as a tone of voice, she sings with pride while also has soul coming out of every portion of her body! Although the lyrics showcase a person in a little painful moment, one forgets that pain exists when the chorus comes in…"I'm Restless…And my mind is not my own…I'm trying not to be so G—— reckless, but I'm sinking like a stone…" direct lyrics from the very moving chorus and each note that is sung leaves the impression that Natalie really wants to make some true changes to find that peace. Natalie's voice is mystic yet very descriptive as it is clear that she is singing because of something. Maybe past hurts, deeper unknown pains, or just creatively introducing her sound into the world, this song reminds me of something that Danger Mouse could have produced as the striking vintage sound wipes away all inner thoughts for a moment. Peace is often what much desire, but unless you are crafty and have the ability to write true peace out in songs like Natalie, it just might be a lot harder to master. Great stuff!
Already displaying a very heartfelt moment for 2018, 'Restless,' is just that one song that makes people want to see what more is in store from the '12:26′ album and from Natalie Lucassian. I can guarantee that listening to 'Restless' will cause me to do everything in my power to stay Alert, Motivated, and Excited, as I am curious as what will follow next. Catching a live show would not be a bad investment as this artist seems to know what it takes to have a hit sound! All in all, I clearly recommend a listen to Natalie Lucassian and 'Restless!' Check her out! Highly recommended!
K. Tibbs