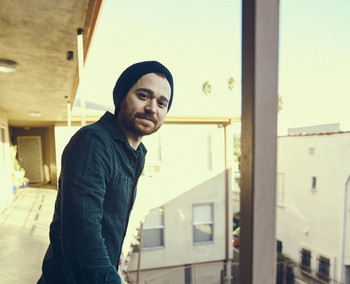 Los Angeles-based singer-songwriter Sammy Strittmatter is set to release his ambitious fourth full-length album, Get Out of the City, on Palo Santo Records on May 18, 2018, and he's pleased to premiere a song from the album, "Brown Eyes," for Skope readers here today!
"'Brown Eyes' was an instrumental song for years, until I started piecing together lyrics that I felt did the music justice," says Strittmatter. "I've always loved learning where people were born, family trees, and understanding the history behind it. My mom was born in Cuba, and my dad's side of the family are from Germany. This song was my way of paying respect, to family overseas I'll never meet from the past or present."
Strittmatter, who has recorded and produced all of his records, got help on this outing from producer/label co-founder Salim Nourallah (Old 97's, Nicholas Altobelli, The Damnwells, Rhett Miller).
There is a cinematic majesty to Strittmatter's thoughtfully constructed soundscapes that never makes the listener feel they are being rushed through a song. They lift, swell and heave like a hazy tide rolling in. This is an album for those who find themselves somewhere between longing and resolve.
The undercurrent of Get Out of the City—staying and going, pushing and pulling—mirrors Strittmatter's life journey between his hometown of Arlington, Texas, where he released his previous albums, Last Night in Oceanside (2008), Moon Orange Lips (2010), and Here but Gone (2012), and Los Angeles, where he now resides. Each song on Get Out of The City complements and contradicts, hopes then regrets, reaches out with abandonment before pulling back in fear. Strittmatter employs a simple yet effective philosophy, one he learned growing up listening to artists like Townes Van Zandt and Nick Drake: "Serve the song." "They just sing," Strittmatter says. "I've always looked up to artists who are genuine about it."
Strittmatter plans to tour in support of Get Out of the City, and he has a residency in Los Angeles in May at Hotel Café Stage 2, with shows scheduled for May 8th, May 15th, May 22nd, and May 29th.
Photo: CaseyPinckard