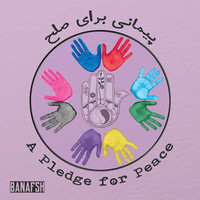 Iranian group BANAFSH creates the unexpected in their soaring song "Soul Man of the East." Bridging together peace-focused lyrics and ambient sounds, this world-music track surprisingly really rocks.
"Soul" is from the forthcoming album, "A Pledge For Peace" and has many things going for it. Sung in both English and Persian, with vocals sounding much like Yusuf Islam (formerly known as Cat Stevens) or even Jim Croce. The flush electric and acoustic guitar riffs meshed with a stunning violin are welcomed partners with lyrics like "for you to come and join us in this feast."
The keyboards and percussion both have crisp showings. The band is tight in this track. What might be missing are harmonies; still, the lyrics are inviting and plead for open dialogue, spreading the word of love and peace no matter one's religion. The electric guitar really shines and just nails a clinching sound.
So how does a band translate the ideas of peace, harmony and brotherhood into song? BANAFSH handles this one stanza at a time. The band's early beginnings (circa 1991) involved film scoring. On one hand, the lyrics are so simple and potent it's easy to feel stuck on the singer's lingering baritone. On the other hand, a film score past helps fill in the tiny blanks of sound whereas the listener is free to cast a wide net for imagery, personal reflection and meditation.
This influence is evident and really sealed the deal for me. The band proves music knows no boundaries. While their social media and online presence is just growing, as is their fan base, BANAFSH are cultivating a promising path.
BANAFSH doesn't overdue this track – the pace and the editing follows like a smooth highway, picking up passengers along the way that soon become fast-friends. It's a song that will get stuck in your head – and you'll find yourself singing along even hours later. The music bed, too, will affix itself into your heart and mind. Perhaps the intention is to only open minds, but certainly the head and the heart respond to music. High marks for spreading love and introducing the world to Iranian music.
Jason Haas