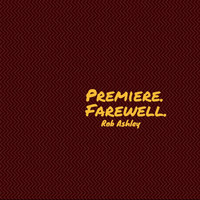 Hailing from Hartford, Connecticut, Robert Ashley is bringing you a sound that is so damn inviting and so freakin' personal.  I'm not sure what drugs Robert is referring to here but let me be the first to say that it's the perfect amount and just the right dosage to soothe all of the senses.  "The Drugs Didn't Last Forever" is featured on the new album titled 'Premiere. Farewell.' and the overall sensation is pretty darn intoxicating.
You have Rob Ashley on vocals, guitar and bass along with Scott Anderson on guitar & Steve Phillips on drums.  Robert penned this song that certainly doesn't last forever at 04:24 but does have a lasting effect from start to finish.  I'd like to refer to this track as having a down-home-cookin' sound due to the hearty texture and welcoming vibe.  Robert Ashley may be from the Northeast but "The Drugs Didn't Last Forever" has a bit of a southern charm to it.  Not sure if that was by design or not but just an element I picked up on while taking a listen. The song flows like a steady stream with a laid-back, fan-friendly demeanor that sucks you right in.  The track came across as Roots Rock in its purest form with a splash of Indie Alternative for good measure.  There is simplicity to the makeup of the song but complex in the sense that Robert was singing and performing from a deep place here.  You get a good sense of Robert's deeper, poetic side with lyrics like: "Rain is washing out the morning like some old sickness in the sky".  Referring to rain and the morning sky in such a way is so creative and proves that Robert is much more than a basic musician but actually a true artist painting with colorful notes that pop out.  One will also detect that Rob is tapping into the emotional landscape by wearing his heart on his sleeve on "The Drugs Didn't Last Forever".
Overall, I was fairly impressed with this new music and can't wait to check out the full album, 'Premiere. Farewell.'  that was released December 14, 2017.  I look forward to future projects by Rob Ashley and his band as sky's the limit I say.  "The Drugs Didn't Last Forever" is a buzzworthy tune that has plenty of highs & lows musically, lyrically and vocally.  In a sea of musicians/artists that can sometimes come across as generic & bland, Rob Ashley doesn't leave a bad taste in your mouth but quite the contrary.  In the words of Huey Lewis and the News: "I Want a New Drug" and Robert Ashley has got you covered with all the fixin's!
http://robashleymusic.com/releases
By Jimmy Rae (jrae2@att.net)