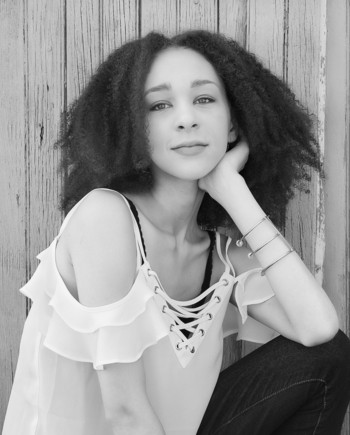 Briannagh D is a young woman who is loaded with talent and full of gusto.  Not only is Briannagh a singer/songwriter and musician but she is also a dancer and actor who has been in short films, commercials and television shows such as "Bizaardvark" on Disney Channel.  Briannagh D is a true symbol of hope spreading inspirational joy to people through thoughtful music and positive actions.  Briannagh is one to watch out for not just in the entertainment world but also in life itself as a future leader or motivational speaker perhaps.  Briannagh D is the complete package of creative control and good 'n' gracious intentions, so a shining star in the making.
J Rae: I see you've been into music since you were a little kid and wondering was there a particular genre or even artist that sparked this passion early on?
Briannagh D:
I've always loved listening to pop music. Growing up, I'd like listening to artists like Whitney Houston, Adele, and Miley Cyrus. I was a big fan of her show "Hannah Montana." I especially liked Whitney Houston because of her incredible vocal range. I get chills every time I hear her songs. I think that Adele is such a unique artist. She has so much power and emotion that is demonstrated throughout each of her tracks. I think that she is good at describing her feelings through her music, and that's something that I admire about her.
J Rae: As a singer/songwriter & pianist, who are some of your favorite singers and songwriters and any piano players that tickle your fancy?  Do you gain much inspiration from these specific artists?
Briannagh D:
My favorite singers/songwriters would have to be Michael Jackson and Taylor Swift. I believe that they are able to captivate an audience through their lyrics, emotion, and incredible stage presence, particularly Michael Jackson. I also admire Alicia Keys as a pianist, vocalist, and songwriter. All these artists inspire me because of their ability to convey the message of their songs to their audience. This is something that I constantly think about as a musician. I want to relay something meaningful.
J Rae: Not only are you a singer/songwriter & musician but you are also an actor and dancer too.  You've been in short films, TV commercials & television shows and was hoping you could delve more into this part of your life for the Skope readers and tell us more about these exciting ventures?
Briannagh D:
As far as acting goes, I really enjoyed working on the Disney Channel show "Bizaardvark." It was great working with such a funny cast on and off-screen. I enjoyed playing the role of a girly scientist, which was meant to be a funny, ironic twist. Still, I think a girl can be concentrated on her academics, while still being able to try on blue mascara and bedazzled clothing!
I am a performer: singing, playing the piano, dancing. I find it really fun to dance while singing, since it puts me in a good mood and gives me energy as I sing. I think that the choreography also helps emphasize the lyrics as I sing, which is why I think that it is so important to be very thoughtful and precise with each move. As I mentioned earlier, Michael Jackson was an incredible entertainer, and this was mainly due to his ability to dance. It gets the audience excited. You'll find that the crowd will start to move with you too. That's an incredible feeling. That's when you know that you've connected with the audience.
J Rae: What other hobbies/activities do you enjoy when you're not singing, writing, performing dancing or acting?
Briannagh D:
I'm such a fashion enthusiast, so you can always find me at the mall or trying to figure out whether or not my dress pants go with my blouse. I'm always brainstorming different outfit ideas and I constantly text my stylist pictures of my favorite looks. I would say that I have a sophisticated style and I really look up to Audrey Hepburn and Zendaya. I think that they are so classy and feminine. I admire them so much.
J Rae: Would you mind discussing your music projects past & present and what they all mean to you personally?
Briannagh D:
I have worked on many different covers and have written and released several singles. I love the writing process and I feel as if I'm in my own little world whenever I'm given a track to write to. I want to write about something that is important to me and at the same time will also have a positive impact on my listeners. My single "Stand Tall" was released a few years ago, but I still hold it near and dear to my heart because of its powerful message of being yourself, regardless of what others may think. "Everlasting Love" is another original of mine that I thought had a great message. It was something very different because it praised all of those who have a positive impact on young people. I wanted to make sure that I expressed a sense of gratitude for all of the parents, grandparents, teachers, and other role models who guide the children and teens of my generation.
J Rae: I noticed on your webpage that you got to open for Dru Hill last year at the St. Kitts Music Festival in PA and bet that was special!  Could you recap this event/experience for all of the Skope viewers out there and let them know how it felt and how it played out?  Are you a fan of Dru Hill yourself and is R&B music part of who you are as an artist?
Briannagh D:
Performing at the St. Kitts Music Festival was so special to me. I was not only given the opportunity to perform alongside many well-respected artists, but I also got the chance to meet, talk to, and perform for some remarkable high school students. I went to several high schools in St. Kitts and gave encouraging speeches on self-confidence, the power of hard work, and the endless limits of the mind.
What was so special about visiting these high schools was that some of the students came up to me afterwards and told me that solely because of my speech, they had hope and would start believing in themselves from that point forward. I was so blown away and their comments really stayed with me. I was so moved by the fact that my words meant something powerful them. It just reminded me of my platform and capability to inspire a generation of children with such potential as these children that I met last year.
After having met these amazing kids, I geared up for the big night. I got so many encouraging words from the group that performed after me, "Creedence Clearwater Revisited." I admired how down-to-earth they were, despite being so successful. I feel as if so many people have this notion that successful people within the music industry are not the nicest, but this certainly was not the case with this group, and everyone else that I performed alongside that night.
If I could describe my performance in a sentence, I would have to say, "time flies when you're having fun." I had such a great time on stage that it felt like I was up there for 2 minutes. The crowd had so much energy and I felt every ounce of it. The outcome was spectacular! I got the news just weeks after my St. Kitts Music Festival performance that I would be opening up for Dru Hill in Pennsylvania. My summer was definitely one for the books and I felt so grateful for all of the opportunities that I was given. I love Dru Hill and the genre of R&B as a whole. As I mentioned earlier, I think that Whitney Houston was such an incredible vocalist, and I think that although she isn't with us, she still possesses an irreplaceable position in R&B music.
J Rae: Do you play any other instruments besides the piano and if not any interest in picking up an additional instrument or two?
Briannagh D:
I've been playing the steel pan for a few years now, and I really enjoy it. I love how unique it is and I feel a strong connection to my Caribbean heritage whenever I play it. The sound that is emitted from this instrument is like no other. It's truly the most beautiful-sounding instrument I've ever heard.
J Rae: With the Spring upon us what do you look forward to most during this time of year and why?  What is your favorite season and why?
Briannagh D:
I believe that spring symbolizes new beginnings and that is most definitely what I'm looking forward to. I love the scenery that comes along with spring as well. The pastel colors and pretty flowers make for a beautiful view. My favorite season, however, is summer. You just can't beat the weather! I love being able to go to the beach or swim in my pool. I also love attending family outings and always having an excuse to go out for ice-cream.
J Rae: Being a former New Yorker myself growing up in Yonkers, I relate with you being born and raised in the New York Metro area.  Been awhile since I've been back but maybe you can take me and the Skope Universe there by telling us all about the many sights, smells and destinations these days.  What is the best part about living in NY and why?  What do you enjoy doing the most in the city and what are some of your favorite hot spots for entertainment, food and culture?
Briannagh D:
Living fairly close to New York, I often find that I do enjoy the many things that the Big Apple has to offer. Whenever I go to New York, I always have to make a stop at Laduree. They have the best macarons and delicious lunch options as well. I also love going to museums when I'm in New York. My favorite is the Museum of Modern Art. Vincent Van Gogh's "The Stary Night" is a must-see. "New York Movie" is also a painting that just makes me ponder. I love how art can be interpreted in a multitude of ways. I also love seeing Broadway shows. They are very entertaining. During the holiday season, I love seeing The Rockettes in "The Christmas Spectacular." Their enthusiasm and sparkly costumes always get me excited. If you're looking for a good place to shop, you won't have to do much looking, because New York has many different shopping areas. I love SoHo and Fifth Avenue. They have a variety of stores and you can spend hours just looking at all of the beautiful designs. I appreciate the amount of detail that goes into each product. There is so much to see in New York and so many different places to explore.
J Rae: As a young person yourself, I was hoping you could leave off with an inspiring message of hope for the youth.  What can you tell all of the teens and children out there that will motivate each and every one of them to bring about positive change in this country and around the entire world?  What do you feel needs to be done right away to make this world a better place and how can the younger population help in this matter?
Briannagh D:
My message to the youth is to "believe in your passion, follow it, and work hard to accomplish it." Whatever you want to become, you are capable of becoming by committing your full energy and persevering in the face of challenges to achieve that goal.
Although the world faces difficulties, I look at the strength of past generations, such as my grandmother's generation. She always tells me about living with her grandparents as a child, due to her father being in the war at the time. She had to struggle to see the pot of gold at the end of the rainbow. It came four years later when she was finally reunited with her father again at age eleven. It made her stronger and enabled her to cherish every moment with him. She also got the chance to become very close to her grandparents, having lived with them for four years.
This just reminds me that even though life will have its ups and down, and even though the world may seem to have so much negativity floating around, you have to remember that there are better times ahead. You will find happiness at the end of the road. This is a message that I hope to get across to everyone, and the youth in particular.
I think that having a voice is something that will help make the world a better place. If you stand up for what you believe in, you will be heard. Your ideas and opinions might end up spreading to millions of people around the world. I just look at people such as Mohandas Gandhi, Martin Luther King Jr., Nelson Mandela, and Malala Yousafzai. They all had beliefs and opinions that they fought to convey to the world. They went through trials and tribulations just to get what they wanted to say out there.
As a result of their hard work, many people heard their message and to this day we benefit from their beliefs and ideas. As time passes, we must continue to stand up for what we believe in. We are a new generation and I think it is up to us to take a stand to make the world a better place. We are the future and we will change the world for the better.
https://www.briannaghdennehy.com/
http://www.starvingartistpromotions.com/
By Jimmy Rae (jrae2@att.net)