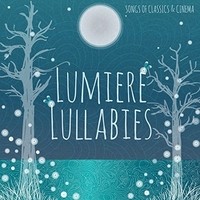 Giovanna McDanel created a mixed tape when she was a little girl of, soothing songs and lullabies from various movies. When she grew up, she decided to recruit two of her friends, Mark Kassenbrock and Giovanni Mera, to make an album of the songs from the mixed tape. The result is her full-length album – Lumiere Lullabies, a nine-track collection with a lullaby angle to jazz standards, a traditional Celtic song, and various songs from Disney movies like Anastasia, The Jungle Book, Mary Poppins and more. It offers up more than meets the eye though, as they do these songs justice in more ways than one.
AMAZON: https://www.amazon.com/Lumiere-Lullabies-Giovanna-McDanel/dp/B079ZKZ4V5
The disc gets underway with "Once Upon A December" from the movie Anastasia. It begins the set with some lush strings that go onto carry many of these tracks. This seems like a lullaby to begin with, as some others do as well, but perhaps that's why they were chosen. Giovanna's voice stands out with the utmost-perfection on this, and it should be that way even though she's in equally talented company. "Over The Rainbow" is also originally sort of a lullaby as well, but there's a lot to describe in how she makes it her own with the help Kassenbrock and Mera. The strings are played with pure grace.

Some of these songs need no introduction. "Feed The Birds" is from the motion picture Mary Poppins. Giovanna puts here own little touches of beauty on it to fit the lullaby format. This is where you notice just how undeniably good her voice is, and it makes the rest of the disc worth anticipating. There's an angelic simplicity among the intricacies of her voice that make it perfect for these songs, and it's strongly felt for the this, the third track. This stands out as one of the highlights on the disc for me, with some of her best singing to be found in the carefully selected set.

"Edelweiss" from The Sound Of Music, the song by Richard Rogers, half of the Rogers and Hammerstein duo that created the blockbuster motion picture is known to most any self-respecting music lover. You either love this show tune or you don't. As someone who learned it in music class, I find this version to be as good as any I've ever heard. And like the former track, it brings out some of the best in Giovanni's voice to be heard on Lumiere Lullabies. The album begins to peak at this point, following with "Nature Boy – Beautiful Things," the Nat King Cole cover penned by George Alexander Aberle, known as eden ahbez.

"River Lullaby" is from The Lion King, originally by Amy Grant, and by this time there's no question the quality of standards met by Giovanna, Mark Kassenbrock and Giovanni Mera. And her voice on "Hushaby Mountain" alone will win you over with its infectious tonal qualities. Who doesn't like Chitty Chitty Bang Bang Bang? It proves the selections on this album are second to none. If you're not a show tunes lover, you'll still enjoy this album, as it has more to offer as well. It's a fresh take on some great popular songs, adding some new horizons in which to be yet again topped, setting a new bar for them to be reached.
FACEBOOK: https://d.facebook.com/LumiereLullabies/?__tn__=H-R

Larry Toering