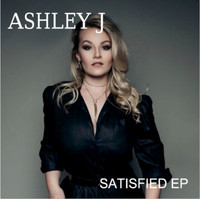 The EP release Satisfied from singer/songwriter Ashley J represents one of the most formidable short form recordings to emerge from the modern pop scene in sometime. It's a clear testament to her talents as both an interpreter of modern material and her skills composing personal, yet universally resonant, material that cuts across genre lines and will appeal to many. The Orlando native's ambitions don't stop in the recording studio, however – she's positioning herself to be in the public consciousness for some time to come thanks to her establishing her own production company and working alongside some of the biggest talents and forward thinkers in the music business today. Ashley J has a masterful command of music fundamentals, but she's also a model artist for our 21st century world – vital, multi-faceted, and thoroughly engaged with her target audience. The five songs on Satisfied surge with raw life and grab listeners by the heart.
Much of her songwriting has a distinctly personal quality. The writing is never carried off in such a way, however, that causal listeners are disconnected from the experience. Instead, Ashley and her writing partners are wisely careful to serve up five songs that speak to the performer's experience while still proving to be accessible for anyone who has known love or the self-determination to survive life's turns in fortune. "Unbreakable" and the title cut are particular testimonies to her resolute determination to endure and they both have a rousing quality that Ashley keeps tempered despite the obvious emotion fueling both performances. "Trapped", the EP opener, is very different than the EP's other four tunes. Here, Ashley J sings and writes quite convincingly from a place of despair and claustrophobia, but the song shares the characteristic with Satisfied's other songs that the tunes are expertly constructed.
The EP's final two songs "Like You Used to Be" and "When I Come Home to You" are opposites in subject matter, but have surprising musical arrangements. The former has a practically ebullient musical sound and the playful musical arrangement is accompanied by a vocal melody that engages listener's physically. "When I Come Home to You" closes the EP on a surprising note. The acoustic guitar playing is a real treat and has all the qualities most listen for in closers. She, naturally, introduces some of her customary EDM and pop touches to the mix and it only makes it a more entertaining endeavor. Ashley J's Satisfied is an invigorating, engaging release from the first song to its last and launches her singing and songwriting career with the sort of comprehensive treatment and flair she deserves. There's no question that she'll be around for some time to come based on the strengths you hear with this EP. The Orlando native may be a young performer, but she exhibits all the tools and talents we associate with once in a generation talents.
Mike Yoder