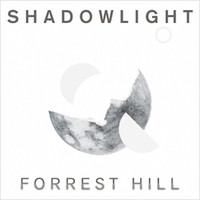 Forrest Hill is a indie/folk rock artist who has recently completed his latest album called Shadowlight. Hill is a well-traveled individual who cultivated his unique sound and voice from hitchhiking his way across the United States. He learned a number of things and found an incredible amount of inspiration from the people who touched his life with their stories. He carries these experiences with him and you can practically feel it in his music. Along with him on the album are Mark Clifford (piano, keys, and vibes), Ross Eustis (trumpet and flugelhorn), Adam Hirsch (saxophone), Max Judelson (bass), Crystal Pascucci (cello), Jason Slota (drums), and Chloe, Erika, and Rachel Tietjen (backing vocals).
"Everything Lost" is an incredibly strong opener to Shadowlight. It seems pretty normal, typical even, until the strings come in and give it a new depth. Hill's voice, while not particularly strong, has an earnest and timeless quality to it that works seamlessly with his sound. "Trapped on the inside, looking out, like a man filled with doubt," is my favorite lyric from the track. The lyrics as a whole are very impressive, but I especially love that.
My favorite track, "Still Crazy Over You", is a song about long-lasting love that just won't fade. It is a light and cute track that makes the listener feel warm and nostalgic. The song is playful and the lyrics are simple in their sweetness in the very best way. The music is funky and gives the song a lot of character that adds to the overall charm. It's a fantastic and enjoyable track.
I absolutely adore the opening to "Let's Fall Down". This song is bittersweet and really showcases the experiences Hill had in his travels through the country. The lyrics are especially beautiful. "There's a tear in my dresser drawer / Full of fear from a thousand wars / Keep that shame behind an iron door / Afraid to let you in." Those lyrics are incredibly powerful, and it just gets better from there. It's a song about healing together. Hill's voice is especially beautiful in this track, with his signature open sound making the track feel very raw.
"One Better" is the closing track on Shadowlight and it is absolutely beautiful. It feels like a great summation to the remainder of the album, with the gorgeous music and thoughtful lyrics. It is just as heartfelt and honest as the rest. There's a tinge of sadness, even though the song as a whole has a feeling of hope. That's a theme through several of the songs- that life is… certainly a challenge at times, but with love it can become far more manageable. That's an optimistic and beautiful way to look at things.
Forrest Hill has a truly incredible sound. He's honed his talent well and created a beautiful album. Any indie/folk rock fan should certainly give Shadowlight a listen. It's true to every genre Hill incorporates while maintaining a very specific flavor that is wholly his own, an impressive feat.