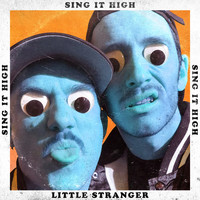 The origins of the alternative hip hop act Little Stranger begin in Philadelphia, but they've built a passionate and growing following in their adopted home of Charleston, South Carolina and are prepared to take that appeal to a national level on the back of a quality single with "Sing It High". The Philadelphia connection brings some urban attitude to the duo's work, but John and Kevin Shields chief distinguishing quality is the chemistry they share as both performers and writers. It comes through vividly on "Sing It High" and the single should more than capitalize on the momentum they've generated through their previous EP and full length release – it should accelerate their recognition as one of the more unclassifiable and creative musical acts working in the indie scene today. Though we've yet to turn the calendar on March, "Sing It High" can already make a claim as being one of the year's best singles.
https://soundcloud.com/littlestrangermusic/sing-it-high
There's an immense amount of musicality that goes into making of this song. It begins with a relatively lean musical character centered around standard instruments like guitar, bass, and drums, albeit in a low-fi acoustic setting, but brings in added sounds as the song rolls on. The addition of these alternate instrumental voices further fleshes out the song's potential without ever coming off as ill-advised or self indulgent. Running just a hair over four minutes means Little Stranger has ample space to develop their musical ideas, but "Sing It High" never overreaches or wastes listener's time with sideshows of any sort. There's abundant melody, as well, built into what they do that further sets "Sing It High" apart from typical hip hop influenced offerings and the presence of well-conceived harmony vocals adds much as well. Many acts in this vein largely focus on the vocal performances and allow the arrangements to become little more than glorified rhythm and beat vehicles for the performer(s), but not here.
https://www.instagram.com/littlestrangermusic/
Make no mistake, however – Kevin and John Shields possess the necessary presence to dominate the song, but they never do. Instead, the vocals bob and weave through the arrangement like a deft welterweight and they even bring other vocal approaches to the table further enhancing the song's value. The vocal approach, as well, tightly locks in with the track's rhythms and mimics them, but never too slavishly. Instead, the various elements of the song seem designed to work in counterpoint with one another, but it isn't so pronounced that it leaps out at listeners. The lyrical content has a number of challenging turns when it comes to phrasing but the vocals handle them with all the skill you would expect. These disparate parts come together for what must surely rate as one of Little Stranger's most unified moments as a recording act and it's a fun ride all the way through. It, likewise, shows how inventive they are in comparison to many of their peers and there's no doubt that their forthcoming EP will reflect their exponential growth as well.
Laura Dodero