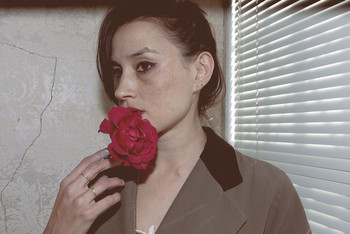 Theresa Wayman, guitarist and vocalist of critically acclaimed rock quartet Warpaint, unveils her solo project TT with new song "Love Leaks" today. Listen to the track, produced by Wayman and her brother Ivan Wayman. LoveLaws, the debut album from TT, is set for release May 18 on Wayman's own label LoveLeaks—pre-order it.
Wayman has long been at work on her own music between Warpaint tours and her commitments as a single mother. She recorded LoveLaws at her home studio in Los Angeles, on the road, in London and at Warpaint's L.A. rehearsal space. Wayman plays the majority of instruments on the record—guitar, bass and synth plus programming the drum beats herself. She produced the entire album with Ivan with additional production contributions from Dan Carey (Kate Tempest, Bat For Lashes) and Money Mark (Beastie Boys), and enlisted her Warpaint bandmates for additional contributions.
Musically, the album explores Wayman's early interest in beats, baselines and samples—she cites Björk and trip hop as major influences. Wayman took a new approach to writing on LoveLaws: for years, she wrote stream of consciousness and tended to forego revising music or lyrics in the pursuit of a raw, unfussy sound. On LoveLaws, she found herself reworking and polishing ideas, arriving at a sound that is truly her own. As its title suggests, the album finds Wayman examining her romantic ups and downs.
Photo Credit – DelaramPourabdi