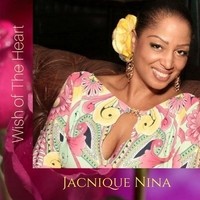 If you are hoping to feel a bit of spring these days, you may get there sooner with the very sultry grooves of vocalist Jacnique Nina. Her debut international single "Wish Of The Heart " is a welcome of invigorating "feel good " sounds. I was privy to a pre-release "to media" press release and was impressed not only with the song, but her elegance and ability to give to the vibe of the song. In viewing her website the LA based vocalist credits her Producer Preston Glass for the success of this album.
For those who are not familiar with Preston Glass he has worked with some of the kings and queens of R&B, Soul, and Pop (Whitney Houston, Aretha Franklin, Earth Wind & Fire, George Benson, Diana Ross, Kenny G), Glass has been gifted writer and hit maker with his work reaching back to the 80's and 90's. Jacnique Nina's Single " Wish Of The Heart" is a welcomed melodic journey of a catchy melody, good production and a perfect song/producer/artist fit.
Her promo team insisted in the press release on all recipients listening to the entire album (also titled "Wish Of The Heart"), I am glad they did ,as the album paints a vocalist who pushes the envelope into smooth jazz, pop, dance and even samba. I won't be surprised if international radio picks up this single, it radiates some well deserved early spring flowers.
By – Sally M. Turner