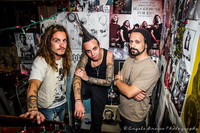 New Jersey's Handsome Karnivore has relocated their operations to the Los Angeles area since the release of their first studio album and their second recording, The Chaotic Static Between Shadow and Substance, is a thirteen song statement of purpose promising to open many doors in the band's musical journey. The four piece outfit brings together a disparate range of influences into a seamless union topped off by a polished, but never fussy, production job and the songwriting has uniform strength that will impress even the most experienced of listeners. The Chaotic Static Between Shadow and Substance may seem like a rather unwieldy title and hinting at pretension, but the songwriting is on spot throughout and, despite the plethora of influences going into this work, remains accessible throughout. It's an outstanding sophomore in every respect.
There's some ambient atmospherics, delicately rendered electric guitar, and sound effects coloring the intro for the album opener "The Earthquake and the Swoon". The theatrical embellishments fall away and some tribal percussion stomp makes a significant presence felt on the arrangement. The vocal is spoken word and rendered like a recited poem for listeners, but avoids the obvious risks for self indulgence. "Fire Burning June" kicks off immediately when the opener wraps and has a strong rock punch built around a particularly exhortative chorus. Handsome Karnivore, likewise, has a strong vocal presence thanks to three capable voices in the band. They revisit some of the ambient touches of the opener on the third track "In the Lands We Used To Run" for what, essentially, is a beautifully re-envisioned example of a lost love song. The elegiac imagery and fine vocal harmonies both share unique qualities of understatement and the uncluttered musical arrangement has a clipped, clean mood that nearly dovetails in with the vocal and lyrics alike.
"Everything Will Be Alright" has an unique sound that should immediately draw listeners in while invoking a light psychedelic pop feel that carries you away from the first. The vocal excellence they bring to bear is uncommon for a guitar dominated act, but even the band's most intricate vocal arrangements ring out with great naturalness. "Silhouette of Rouge" is another delicate, slightly mournful lament on a faded love affair. There's some light effects accenting the instruments, but this is largely a more stripped back, unvarnished affair than many of the album's earlier tunes. "The Void" has a big, echo-laden swing from the first and really digs deep with some guttural riffing. Their penchant for post-production color comes through again on this tune, but Handsome Karnivore never apply that in too heavy handed a way. It's a rollicking instrumental and a surprise around the album's midway point.
"Can't Be Satisfied" is Handsome Karnivore's 21st century take on the blues, call it post-modern if you like, but it works and hits all the expected traditional marks while spinning things off into the band's own tense, high-wire direction. There's definitely a high temperature simmer boiling throughout the entirety of this track and it erupts deeper into the track. "She Sings in Silver Linings" has a moodier, electronic-driven air surrounding it than anything else we've heard thus far on The Chaotic Static Between Shadow and Substance. It mixes straight forward vocals with spoken word passages for a second time on the release and the effect is similarly convincing as before. "Unexpected" is every bit of the mammoth closer you expect from this band and runs nearly ten minutes that you have to stick with to achieve the full effect. Despite their arty conceits, Handsome Karnivore never comes off as too full of themselves or losing the plot with self-indulgence. Instead, they come off as truly cutting edge and separate themselves from the pack even further with this second album.
FACEBOOK: https://www.facebook.com/HandsomeKarnivore/
Michael Saulman