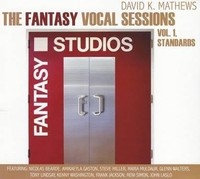 David K. Mathews goes for a timeless elegance on the lush jazz atmospheres of "The Fantasy Vocal Sessions Vol. 1". With a classic sort of touch, the way that David K. Mathews lets these tracks evolves shows off a real ear for melody. Gentle percussion, stylish piano, and best of all, a wide array of vocal styles thrown into the overall aural universe. By allowing these pieces to evolve in a natural way, the songs possess a tremendous grace of sorts. Going for an intimate approach the tracks linger in the mind while they explore carefully nuanced sounds, never feeling rushed.
With "I Want To Talk About You" starts the album off just right, featuring an inviting swooning voice. Full of compassion and care, the romantic imagery simply leads the way. Things are stripped down to the essentials on the hushed awe of "Alfie". A warm reassuring temperament takes hold on the luxurious "Ruby" where everything simply comes together, from the light jazz guitar to the nimble piano. Energy flows out of the giddy and aptly named "Smile". Languid grooves unfurl in a summery way with the delicate "When Sunny Gets Blue". Passion pours out of the phenomenally chic "The More I See You". Saxophone adds to the soothing atmosphere, giving it almost a Bossa Nova touch with "We'll Be Together Again". Perfectly concluding the album is the reassuring "In The Wee Small Hours Of The Morning".
"The Fantasy Vocal Sessions Vol. 1" shows off David K. Mathews' undeniable talent in crafting a shimmering, swinging world.