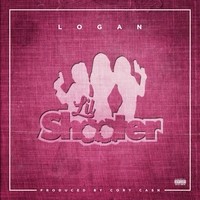 Logan employs a flawless flow on the nimble beats of "Lil Shooter". Rather powerful, the narrative unfolds with such care. The lyrics have a tremendous thoughtfulness to them neatly possessing a great deal of detail. Nicely accompanying Logan's lyrics are powerful, bass-rumbling grooves. With this the song gains a particularly potency, one that drives it forward. Right in the periphery of the sound is a rather captivating melody, one that has an ambient sheen to it. Multifaceted and multilayered, the whole track opts for a tenderness. Full of warmth and a welcoming spirit, the whole piece deserves to be truly blasted.
https://itunes.apple.com/us/album/lil-shooter-single/1336590187
Hushed flourishes come from far off in the distance. Logan's vocals are front and center, from which all else revolves. Gradually Logan lets the groove build up into something majestic. Crisp percussion hits further emphasize the power behind the piece. Delivered with the utmost of passion, the lyrics linger in the mind. Over the course of the piece Logan incorporates a dazzling degree of the small moments that truly make up a life. By taking such a tact, everything feels so vital. The song transforms into something that contains a tremendous amount of energy, as the many divergent paths converge towards the latter half of the piece. For the final stretch the whole piece delves into a dreamy aura, one that feels so real and vital.
Reflection in the lyricism and intense beat work help Logan sculpt a spellbinding world with the thoughtful "Lil Shooter".