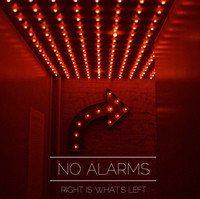 No Alarms creates an instant classic with the driving rhythm of "Right is What's Left". Full of heart and soul the song opts for a rich luxurious sound. Synthesizers are granted a stately presence, with the guitar gestures further adding to the grandeur of the piece. Knowing how to keep balance, nothing ever feels overdone. By allowing for just the right amount of power and emphasis, the whole piece radiates with life. Vocals opt for a sort of passion, nearly yearning, which rests at the very heart of it all. Melodically rich, No Alarms incorporates a great deal of color within the stripped-down, neon-hued atmosphere.
Jagged synthesizer introduces the piece. Upon the rhythm guitar entering into the fray things move far more quickly. Almost akin to a gorgeous rush, the blurred quality of the work feels absolutely intoxicating. By choosing such a great fully-formed vision, No Alarms' lyricism gets a particular poignancy. Quite quickly No Alarms bursts forth with a tremendous amount of energy, as the whole piece maintains a sly groove. Rather thoughtfully, No Alarms merges the bass and synthesizer to become one. Little flourishes go a long way within the oftentimes dreamy haze of the piece. For the final stretch of the track No Alarms allows the party-like atmosphere to grow ever more potent until it becomes all-consuming.
https://www.noalarmsmusic.com/
"Right is What's Left" shows off the undeniable chops of No Alarms, delving into a highly ornate, emotionally compelling world.