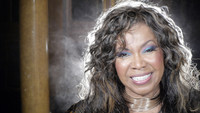 A virtual Renaissance lady of enormous talents, Kristy Love Brooks is more than merely a singer, songwriter, and musician. The Detroit native has proven herself as a talented educator, director, playwright, dancer, and actress and the all-encompassing nature of her skills informs every aspect of her presentation. This is illustrated by the origin of her latest recording The Soul of Rock 'n' Roll. It's a sixteen song collection written and designed to serve as a soundtrack for her original musical stage play The Legend of Kristy Love in the Soul of Rock 'n' Roll, but it stands on its own as a fiercely independent release every bit worthy of her extensive pedigree. The album has already experienced notable success with its single "Keep Believing – Believe In Yourself" scoring with both R&B listeners, a house version with DJ's across the nation, and making prominent headway with indie listeners as well. Even a single listen proves why.
URL: http://kristylovebrooks.com/bio/
The percolating, groove oriented rhythms of "Keep Believing – Believe in Yourself" give Brooks a deliciously playful backing track for her soulful voice. She takes on the song with every bit of the fervor we'd associate with a classical gospel performer and this track of exhortation gets its positive message over in a very entertaining way. There's a House/club version of the song included on album as a bonus track and it manifests the same strengths in a distinctly different aspect. She takes a turn towards a stylistic cross-section of sounds with the second song "Without You". Her voice and the accompanying horns give it a distinctly R&B feel, but there's some funky rhythm section work and even a light Latin lilt to the percussion. She manages to orchestrate these seemingly disparate sounds in a seamless way. "Good to See You", however, is pure R&B balladry and a guaranteed knock out for admirers of the form. There's an elegant sumptuousness about the song that never comes across as anything less than considered and carefully constructed. Much of the same elegance and evocative vocal treatment carries over to the cut "Love Is on My Mind" and she achieves a flowing, stylish sensuality that insinuates itself in listener's consciousness and weaves a spell. It's another firm entry in the R&B/soul tradition, but rings out with her distinctive voice.
We're back with a funkier side of Brooks' musical personality with the romping, synth colored number "Get Smooth". The fat bass line bubbles up throughout the mix and sets a memorable dance floor tone without ever coming off as cheap. "Rainbow of Love" signals another satisfying musical turn for Brooks as the artfully handled reggae bounce livens things up in a noticeable way and seems to inspire Brooks vocally. One should expect any hamfisted guitar histrionics from Kristy Love Brooks on a song entitled "I Like To Rock and Roll" for a variety of reasons, but it's clear she's a lot more focused on rolling than rocking and the playful swing achieved by the rhythm section here makes this all that more enjoyable of a departure. It is a rock song, to be sure, as evidenced by its straight ahead and physical 4/4 drumming, but it's never gratuitous. The album's finale arrives with the electronic driven and rousing "Dream Your Dreams" and Brooks pours every bit of herself into this final mighty exhortation that ends up playing like an airy R&B infused anthem building great momentum from the first and never relaxing. She finishes The Soul of Rock 'n' Roll with the same unflagging energy she begins the release with and her performance is full of the fundamental spirit defining the best popular music.
CD BABY: https://store.cdbaby.com/cd/kristylovebrooks6
Jason Hillenburg