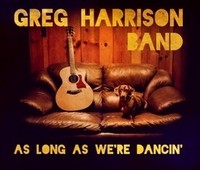 Greg Harrison Band chooses a confident take on classic rock with the playful "As Long As We're Dancin'". With an impressive display of songwriting chops and ear for melody, the Greg Harrison Band creates a warm welcoming world. Rich and luxurious the sound is easy to get lost in, from the soaring organ swells to the grandiose guitar riffs. Tying all of this together are thoughtful lyrics that telling compelling stories of lives lived to the absolute fullest. Vocals have great resonance to them while they sing with the utmost of confidence.
Things start off on a high note with the raw groove of the title track "As Long as We're Dancin'". Incorporating a healthy dose of funk, the whole track simply stuns. Some gospel enters into the fray on the celebratory "Deliverance". A great buildup comes with the fantastic "Meant to Be". Spirited shuffles come in a gorgeous burst of color with "Be With Me". Downright physical with its jagged edges and dollops of distortion with the bluesy "Devil Woman". Wild and careening uncontrollably "Don't Be Shy" taps into a tremendous energy. Rushing by in a blur "One Day" has a longing wistfulness to it. Spacious to its very core "11:11" incorporates a spaghetti western twang to it. Perfectly ending the album is the jaunty "Taste Your Love".
"As Long As We're Dancin'" shows off Greg Harrison Band's impressive knack in delving into something that feels so real and so outright reassuring.
By Beach Sloth