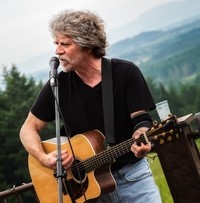 Theo Czuk has sported a number of identities during his life but artist remains among the most abiding. Czuk pursues self-expression through time-tested forms such as poetry, fiction, and songwriting, but even a cursory examination of his biography and the experiences he delineates through his work reveals a exploratory soul whose life likely stands as his most thoroughly realized creative act and one still in progress. His latest musical release, The Black Bottom, is subtitled Cultivating Jazz: The Full Measure and the dozen originals on this release definitely offer up a sweeping invocation of jazz music in nearly all its high profile permutations. Moreover, it's a songwriting showcase allowing the Detroit born Czuk ample opportunity to frame his lyrical works with the best possible musical backing that always comes off complementary rather than arbitrary. Czuk is well into a stage of his life when, on a variety of levels, we find many creative forces beginning to settle and narrowing their focus, but we get nothing like that with Czuk. Instead, The Black Bottom reveals him to be as curious as ever and the youthful energy fueling his creative vision is quite welcome.
The album's title cut and opener is a groove centered instrumental with a delicious bass hook buttressed by solid drumming. The primary melodic instrument here, however, is the keyboards and the patient evolution of its lines has a soulful touch and obvious eloquence shining through every minute of the song. Horns and jangling acoustic guitars are introduced into the mix with "Cold Corridor" and the first vocal performance on the album has an appropriately windswept quality, playful phrasing, and a Dylan-esque quality with some lines that 's difficult to ignore. The violin has a dark undercurrent propelling it onward, but matches it with moments of inspired lyricism. Czuk's writing has some hard bitten edges and strong lines but his imagery never panders to the audience.
"Let It Swing" definitely latches onto one possible meaning for its title with a drumming performance that alternates between two time signatures without even a hint of losing its way. This is as much of a musical exercise as it is a genuine song and the musicians, including Czuk, take this opportunity to demonstrate their talents without ever lapsing into self-indulgence. "Lunch Wagon on Highway 57" lays a Kenneth Patchen poem over a Beat jazz arrangement with superb results and even brings flute into the mix to help things come off with even more color. The sole track on the album not featuring any lyric contributions from Czuk doesn't damper his vocal enthusiasm to any degree. The album's briefest tune "Wooden Nickels" has a slightly skewed, screwy musical arrangement and equally playful lyrics with some unexpected turns of phrase that Czuk makes great use of. The air of musical playfulness continues with the track "Good Night's Sleep" and Czuk's dramatic vocals, while never classically pleasing, definitely draw listeners deep into its world and features just enough additional voices to make it even more memorable.
The album's penultimate tune "Catalina Eddy" has a woozy charm sure to enchant listeners from the first and manages to throw a variety of unexpected elements into the mix, including quoting Deep Purple of all things. The album's finale "Closing Time" is pure smoky torch song jazz driven by piano and drenched in blues. We are treated, for a final time, to some spectacularly effective organ playing that provides a distinct counterpoint to the piano and ends things on the right note. Theo Czuk's The Black Bottom is a miraculous and fully focused work rewarding to any music fan, hardcore or novice, and capable of rewarding its audience more and more with further listens.
CD BABY: https://store.cdbaby.com/cd/theoczuk1
Jason Hillenburg